This 'Killing Eve' Star Will Reportedly Become a Marvel Superhero Silver Sable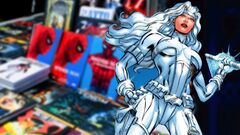 Despite the quite unfortunate – for many 'Killing Eve' fans at least – finale, this actress is moving on.
It looks like Jodie Comer might play an Eastern European assassin again, with recent rumors suggesting that Sony is interested in casting her as Silver Sable.
Jodie Comer, known for her role as Villanelle in 'Killing Eve ', is rumored to be in talks for a Silver Sable movie for Sony's Spider-Man cinematic universe. It seems that Comer's favorite role as the Russian assassin as opposed to Sandra Oh's Eve has earned her a reputation as a sought-after actress playing dangerous Eastern European women.
Silver Sable made her debut in Marvel Comics in 1985 and quickly gained the love of Marvel fandom. Depicted as a mercenary who hunts war criminals and helps those in need, Silver Sable has always been considered a hero, with some notable exceptions, including her tumultuous enemy-ally relationship with Spider-Man.
Sony has yet to comment on this rumor, so Comer fans are advised to hold on to their excitement a little longer, but given the actress' great resume and her serious acting abilities, her inevitable casting in one of major superhero productions seems like a matter of time.
Fans are excited to see Comer embody the role of assassin once again, but many are worried whether Sonyverse is the right place to do it.