Tom Cruise Had The Late Late Show Host James Corden Trembling in Fear with His Suggestion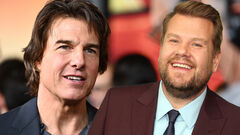 James Corden was terrified for his own life — but he was also scared to become known as the man who killed Tom Cruise. All because of the actor's bold suggestion!
Tom Cruise is a well-known adrenaline junkie, and the majority of his movies reflect it quite well: take the Mission: Impossible franchise, for one, which is nothing but one big stunt!
Cruise famously performs all his stunts himself, and even spends his leisure time taking on risky activities. It's not only this man's bread but his wine, too.
Speaking of the Mission: Impossible movies, during the promo tour for Fallout, Cruise decided that he shouldn't be the only person enjoying the stunts and adrenaline rush — so he called the host of The Late Late Show, James Corden, to join him…to fly a fighter jet together. Needless to say, Corden was petrified.
The Late Late Show host had quite a few reasons to worry, too. Despite his reputation, Tom Cruise has always been known as an actor and not a professional fighter jet pilot…and if something were to happen with them up in the air, no one would even know that it wasn't his, Corden's, fault — they'd say he killed Cruise!
"A few days before [the flight] I had a genuine worry. I ended up going, like, 'He's an actor, he's NOT a pilot.' Like, respectfully, it's just the two of us in an airplane. If something happens then we die. And worse than my own death is my children growing up and people going, 'Their dad killed Tom Cruise,'" the host shared at the Royal Television Society conference.
The action star was quick to address his quest's worries, though. Cruise assured James Corden that he had nothing to worry about and that all the necessary precautions would be taken.
"James, your life is more valuable than mine. You're not in danger," the Mission: Impossible actor promised.
These kind words somewhat reassured Corden, and The Late Late Show host agreed to fly with Tom Cruise. Considering that both these men are still alive and well, it's safe to assume that Cruise is as good of a pilot as he is an actor… But we can't blame James Corden for being terrified of the idea, at first.
Source: Variety