What Does BE'O Rapper Name Stand For?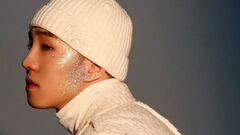 Every rapper must have a story behind their name, and BE'O picked something meaningful for him and his fans as well.
Yoo Chanwook, also known as BE'O, is a rookie rapper who recently became popular due to his appearance on SMTM10, a show for underground rappers. Several songs performed by BE'O on this competition program have instantly won over listeners' hearts and got on music charts. Counting Stars, which he performed in the second round of SMTM10, became a viral track among the general public: many Koreans and celebrities have been singing along to the popular line "counting stars, the pearls in a night sky" and creating their parodies of it.
On a YouTube show Look Me Up the artist has shared why he had chosen BE'O as his nickname. He searched for his name on online forums and checked information about him added on Namuwiki (Wikipedia's analog in Korea). In the article about the artist, his religion was stated as 'Catholic'. Yoo Chanwook confirmed this, saying that BE'O actually came from his baptismal name. His full Christian name is Auxibius (아욱시비오), and in Korean, the last part sounds like 'beo' (비오), which Chanwook turned into a rapper name BE'O. His Instagram username @auxi_beo was created accordingly as well.
In Catholic history, Saint Auxibius was a bishop of Soli. He was a smart and talented man born in Turkey who traveled the world converting people to Christianity. Auxibius became a bishop in the Soli city in Cyprus after being baptized by Saint Mark the Evangelist. Saint Auxibius guided his diocese for fifty years and peacefully died at old age. Overall, the name Auxibius is rarely used.
BE in BE'O also means 'rain' in Korean, that's why the rapper's fandom name is 'Umbrella'.
BE'O has just released his first mini album Five Senses, featuring many popular rappers like Loco, Gray, Ash Island, and others on September 29.