'The Flash' and 'Fantastic Beasts' star Ezra Miller arrested in Hawaii Karaoke Bar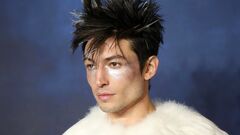 Hawaii County police department arrested and charged Ezra Miller with disorderly conduct and harassment following an incident in a karaoke bar in Honolulu, Hawaii on Sunday night.
According to the police report, The Flash and Fantastic Beasts star was involved in an incident at a bar on Silva Street. A 29-year-old man, later identified as Ezra Miller, became agitated while patrons at the bar began singing karaoke. Miller began yelling obscenities and at one point grabbed the microphone from a 23-year-old woman singing karaoke (disorderly conduct offense) and later lunged at a 32-year-old man playing darts (harassment offense). Miller is alleged to have been told to calm down by the bar owner.
The actor was arrested and charged on both offenses and total bail was set at $500. The actor posted bail and was released.
Now some fans are worried about the release of much-anticipated and long-delayed 'The Flash'.
While some users condemned Ezra's behaviour,...
…others claim that Ezra is dealing with intense personal issues right now, and this is part of the reason 'The Flash' was delayed so significantly.