'Top Gun: Maverick' About to Fly Past 'Avengers' Box Office Record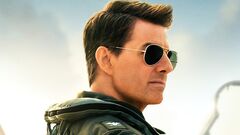 It's impressive when one Navy pilot poses an Avengers-level threat.
It looks like the history of the US domestic box office is about to be rewritten by Paramount's sweeping blockbuster 'Top Gun: Maverick'. The Tom Cruise-led movie stands $5 million away from kicking out Marvel's 'Avengers: Infinity War ' from the sixth-highest grossing film position on the domestic box office list.
'Infinity War' currently has $678,815,482 grossed domestically, with 'Top Gun: Maverick' trailing behind with $673,822,000. With the domestic box office record being this close, 'Maverick' will need another miracle to try and surpass 'The Infinity War's international box office success.
Worldwide, 'Infinity War' has scored $1,3 billion. Meanwhile, 'Maverick' has only garnered some $100 million at the top of its domestic box office, with its international one currently at $704,000.
However, it is not impossible for 'Maverick' to try and do miracles, because it continues to break records during its 12th weekend in theaters. Fans have anointed the movie "the best film of 2022", although many people were quick to denounce it as "military propaganda".
In fact, some fans seem to believe that 'Maverick' could have enjoyed an even more massive victory at the box office if it wasn't for the coronavirus pandemic.
There are people who believe that 'Maverick' is perfectly capable of surpassing 'Infinity War' and 'Black Panther' and scoring a $700 million domestic box office. And judging by the numbers, they might be totally right.