10 Best A24 Studio Movies If You're Tired of Mainstream Cinema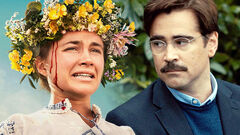 From Hereditary to Lady Bird.
A24 is perhaps the most successful independent film company today. The studio gives newcomers to the film industry a chance to make history: it doesn't matter if you're making a comedy or a horror, as long as you're making an auteur statement that resonates with the younger generation.
Nowadays, all it takes is an A24 logo at the beginning of a movie to create a buzz.
1. Lamb
Not at all scary, but disturbing Icelandic folk horror about a couple in whose barn a baby girl is born. However, this girl is half human, half lamb. Having lost their own daughter, the characters name the miraculous child Ada and begin to raise her as their own.
Swedish actress Noomi Rapace stars in the movie, which was produced by Hungarian Bela Tarr and directed by Icelandic debutant Valdimar Johannsson.
2. Room
An adaptation of the novel of the same name by Emma Donoghue. The plot revolves around a young woman who is the victim of a kidnapping and gives birth to her child while in captivity.
It's basically two movies in one. The first half is a thriller about escaping from a madman, the second half is a drama about a boy's adjustment to the world outside of the room. Irishman Lenny Abrahamson's drama brought Brie Larson an Oscar for Best Actress and revealed the young talent of Jacob Tremblay.
3. The Green Knight
Indie director David Lowery reimagines the British Arthurian legend. The fantasy tells of Sir Gawain's journey to the Green Chapel, where the tree knight must cut off his head.
A stunningly beautiful medieval road movie with giants, a talking fox, puppet theater, and a crisis of masculinity. There are no epic battles, but as is often the case with A24 movies, there is a rather unusual beheading.
4. The Farewell
The Farewell is another production success for A24. Few critics had anything negative to say about the movie, and ordinary viewers could not resist the sincerity of the film. This is a rare case when a praiseworthy and very modest movie gets the attention it deserves.
In the story, the grandmother of the main character is diagnosed with a fatal disease, but she does not know about it. Unlike the family members who decide not to tell the woman about the diagnosis, because fear can kill before the disease. Under the pretext of a holiday, everyone gathers at the grandmother's house to say their last goodbyes.
5. Hereditary
The debut of wunderkind Ari Aster, who has made a name for himself in horror with two films (we'll talk about the second one later), is A24's biggest box office hit before the release of Everything Everywhere All at Once.
This is a psychological drama about the supernatural horrors the Graham family faces after the death of their grandmother. If you haven't seen the movie yet, it's best not to know anything more about the plot. And if you've seen it, then you know everything yourself.
6. Midsommar
Ari Aster's second film for A24. The sunny folk horror follows a group of college students on vacation to a rural Swedish commune where sinister pagans have decided to organize a summer solstice celebration with sacrifices.
The Wicker Man for millennials turned out to be a vicious satire about separation and emancipation.
7. The Lighthouse
If you only know Robert Pattinson as a charming vampire who terrorizes teenage girls at night, you're in for a break. This time, he stars as a young man who arrives on a remote New England island to help a lighthouse keeper.
For miles around, there is practically no one but the two of them, and gradually the two men begin to go mad. A black and white picture, seclusion and a depressing atmosphere are included.
8. Everything Everywhere All at Once
Daniel Kwan and Daniel Scheinert's work became the absolute frontrunner at the Oscars and the studio's most successful release. A heartfelt and extremely intense fantasy about a tired laundry owner who must travel through parallel universes to save her own and other worlds from destruction and find a common language with her daughter.
Everything Everywhere All at Once hides deep problems behind a veneer of comedy and shows how important it is to maintain family ties, no matter what. A nice addition to the mic is beating up a horde of armed guards with a fanny pack and giant sausage fingers.
9. Lady Bird
Coming-of-age stories are A24's main source of revenue after horror. Their biggest hit in the genre was Greta Gerwig's directorial debut about a Catholic high school senior from a gritty Sacramento town.
Critics and audiences of the dramedy were captivated by the director's sincerity as she talks about the character's relationship with her mother, her first love, first sex, first fight with her best friend, and, finally, her separation from parents.
10. The Lobster
Yorgos Lanthimos creates a romantic drama, but leaves almost nothing of what is typically associated with the genre in it.
The action takes place in a dystopia where loneliness is practically forbidden by law, and everyone who has not yet been lucky enough to find a soulmate is sent to a mysterious hotel. The service that the unlucky guests have to face is rather horrible: if they do not find a partner within 45 days, they will be turned into animals.