3 Most Surprising Moments in 'The Boys' Season 3 Premiere (Including THAT One Cameo)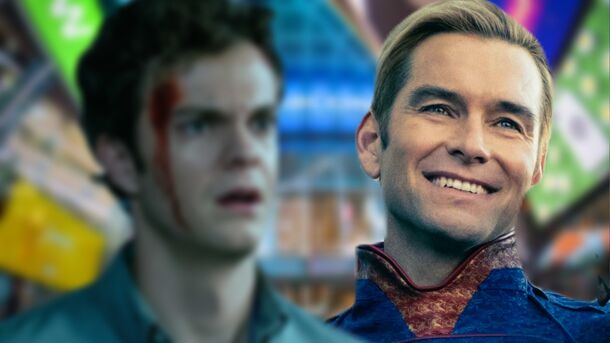 'The Boys' is back to traumatize its viewers, but let's not go there just yet and talk about unexpected (but ultimately SFW) moments that surprised us in these first three episodes.
Charlize Theron Cameo, s3e1
Well, we certainly didn't expect that, and that's why it worked so well. In the very beginning of the very first Season 3 episode there she is, rocking a superhero costume… and impersonating Stormfront, who, as we all remember quite well, suffered a super-brutal beat-down last season. Well, of course, there's no more Stormfront (we learn how she died in the second episode); Charlize Theron's playing a fictional version of Stormfront, and that footage is actually from the movie 'Dawn of the Seven' by Vought Studios.
We had another Charlize Theron cameo just last month, when the actress debuted in the MCU as Clea; but, arguably, her cameo in 'The Boys ' as Stormfront was even more exciting to fans (due to the unexpectedness of the whole thing). Kudos to 'The Boys' team for being able to keep this under wraps for so long! Fans are understandably delighted, calling Charlize "the mother of cameos" and expressing their regret that the actress probably won't appear in the show again.
Neuman Reveal, s3e1/s3e2
In a subplot taking place over episodes 1 and 2, Hughie finds out that Victoria Neuman, anti-supe activist, actually has powers of her own (and was somehow adopted by Stan). In the premiere episode Hughie watches in horror as Neuman kills Tony, and then, in the episode 2, he tells Billy everything he learned about Victoria and Stan, saying that Neuman has to be taken down no matter at what cost.
Homelight, s3e3
Some fans were expecting this, and some were left genuinely surprised, when Homelander and Starlight ended up together – and on air no less! Like, together-together. Like, in a relationship. Of course, there's no real romantic relationship, but the kiss we've seen looked real enough to those who needed to be convinced. And they did this right before the third episode ended – so now we're gonna have to wait another week to learn about all the consequences of this publicity stunt.
The most surprising 'The Boys' pairing even got a name: #Homelight is currently trending on Twitter, with fans expressing all kinds of emotions about the whole 'Homelander and Starlight fake dating' plot. Some are genuinely outraged (and we feel for them, because hey, Homelander is essentially a psychopath and we kinda fear for Annie's well-being now too), and some just feel sorry for Hughie, who already was on edge about Annie's ex being in the picture. Fans on Reddit even compared this possible "love triangle", however twisted that is, to real-life Kim / Kanye / Pete Davidson drama, once again pointing at how "meta" this show sometimes gets.