5 Over-the-Top Things Hollywood A-Listers Did to Nail Their Roles (and They Did)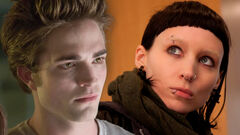 The name doesn't mean anything until you prove your worth.
There is an overwhelming opinion that at some point, celebrities don't even have to do anything to get the role they want. However, no matter how famous the actor is, if the job requires them to do something crazy, they are usually willing to take on a challenge to top their performance.
Here are five examples of Hollywood celebrities who went the extra mile and did some insane things to fit their characters perfectly.
1. Rooney Mara's Piercing
While some changes are mental, others require a few tweaks to the celebrity's physical appearance. The Girl with the Dragon Tattoo's Rooney Mara may not actually have a dragon tattoo that covers her entire back, but she did pierce her nipple to feel a little closer to her edgy character (via Allure).
Before starting work on Good Time, the actor decided he lacked the experience to understand the character, so he rented a basement apartment and spent some time not washing his sheets and sleeping in his clothes. We applaud the actor's dedication, but we are also very grateful that he did not try to suck anyone's blood in preparation for Twilight ( via NZME).
3. Shia LaBeouf's First Trip
Shia LaBeouf is no stranger to anything eccentric, so there are quite a few stories to choose from for this list. One of the most notable things the actor did for his role was to take real drugs to understand the experience and better portray it in The Necessary Death of Charlie Countryman (via The Guardian).
4. Tom Hanks' Weight Loss
Tom Hanks' story just goes to show that some transformations are too dangerous for actors to undergo. From constantly losing weight and trying different diets for movies like Philadelphia and Castaway, the actor ended up being diagnosed with Type II diabetes, which can be a life-threatening condition (via The Late Show with David Letterman ).
5. Halle Berry's Hygiene Habits
While some would call it getting into character, others believe the decision is too unsanitary to be made. However, if the actress' choice not to bathe for about eight weeks helped her with her Jungle Fever performance, we won't argue with a working method (via News24).
Sources: Allure, NZME, The Guardian, The Late Show with David Letterman, News24