AI Imagined Pulp Fiction As If It Was a Pixar Film 
What would a Tarantino classic look like if Pixar got their hands on it?
Imagine Quentin Tarantino's iconic film Pulp Fiction created by the creative minds at Pixar. Sounds intriguing, right? Well, that's exactly what the YouTube channel Yellow Medusa did with the help of AI.
First things first, Pixar's rendition of Pulp Fiction would definitely keep the iconic elements that made the original film so memorable. Yes, we're talking about those unforgettable characters like Jules Winnfield and Vincent Vega.
The narrative would maintain its nonlinear format. Pixar has shown its prowess in dealing with complex narratives (remember Inside Out and Up?), so handling the intricacies of Pulp Fiction's storytelling wouldn't be a big deal.
The video does a great job in showing Tarantino's dark, grungy environments bathed in Pixar's warm, inviting hues. A juxtaposition of Tarantino's dramatic, high contrast shots and Pixar's fluid, captivating visual storytelling could result in a cinematic spectacle like no other.
It starts with the glamorous and spirited socialite Mia Wallace, who is married to the powerful and feared crime lord, Marcellus. Mia yearns for attention from her husband, who is constantly preoccupied with his criminal endeavors.
Instead of spending time with Mia, Marcellus assigns his associate Vincent to keep her company. However, Marcellus forgets to warn Vincent about Mia's passion for sugar, which can lead to unpredictable consequences.
The narrative then shifts to Vincent's story. He and his brutal gangster friend Jules embark on a mission to retrieve a mysterious briefcase from a rival gang.
The true magic occurs when the two gangsters finally open the mysterious briefcase, and what they see inside forever changes them for the better.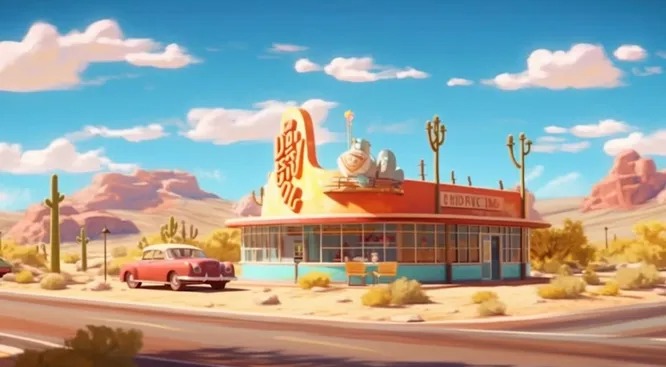 The film concludes on a positive note. Each character embarks on a new chapter, leaving their criminal pasts behind and embracing a brighter future filled with genuine connections and the pursuit of happiness.
The video has garnered a lot of attention, with viewers commenting on the innovative concept.
One user stated, "Great idea, and the changes and omissions necessary for this to be a Pixar film were cleverly handled; but the characters should all be various types of anthropomorphic animals, because... Well I don't know why."