It goes without saying that the makeup department of Stranger Things season four really had their work cut out. From Chrissy's dad (Christopher Strand) being sewn up to the creation of Vecna himself.
Not all of the makeup is gory and fear-inducing, however. There was also a fun side to the job with everyday 80s makeup that had subtle differences depending on where the characters were. You'll notice the makeup in the scenes in California is different from Hawkins, for example.
But what about Eddie Munson's tattoos? Their brief appearance had a lot of fans questioning whether or not they're real.
Eddie Munson's tattoos
As a new character for season four, the makeup artists had to create Eddie from scratch. Described as a tattooed, D&D dungeon master and metalhead, the Stranger Things makeup team had to come up with ideas for what would feature on the tattoos.
As head makeup artist Amy L. Forsythe shared in an interview with Nylon, she got in touch with her own tattoo designer, Jeremy Sutton, to help her design Eddie's tattoos.
She said: "I would say I want a puppet hand with some sort of ghoul and then he'd send me a picture and I would say I want it to be a little different – guiding him in that way, back and forth. I suggested a cluster of bats – I'm just calling things out and he is jotting everything down and makes me a flash sheet."
Tattoos hidden – for the most part
When it came to it, though, the Stranger Things costume designers had Eddie wearing his jacket the entire time – well, mostly.
There were two scenes when they decided to let Eddie remove his jacket. The first was in the woods when he was sharing a moment with Chrissy and the second was during the Hellfire Club D&D game. On both occasions, he would naturally have been more relaxed.
These Fan Theories Will Make You Believe in Eddie Munson Season 5 Comeback
But – are they real?
Though the designs are very real and were designed by a tattoo artist, they are just makeup.
As soon as they were shown on screen, however, fans were eager to get pictures of them and replicate them.
Amy L. Forsythe chose to reveal Eddie's five tattoos on her Instagram page over a week, with a picture of each one in the show and its design on paper. Many fans commented on these and what they mean – and lots have chosen to have them put on their bodies too!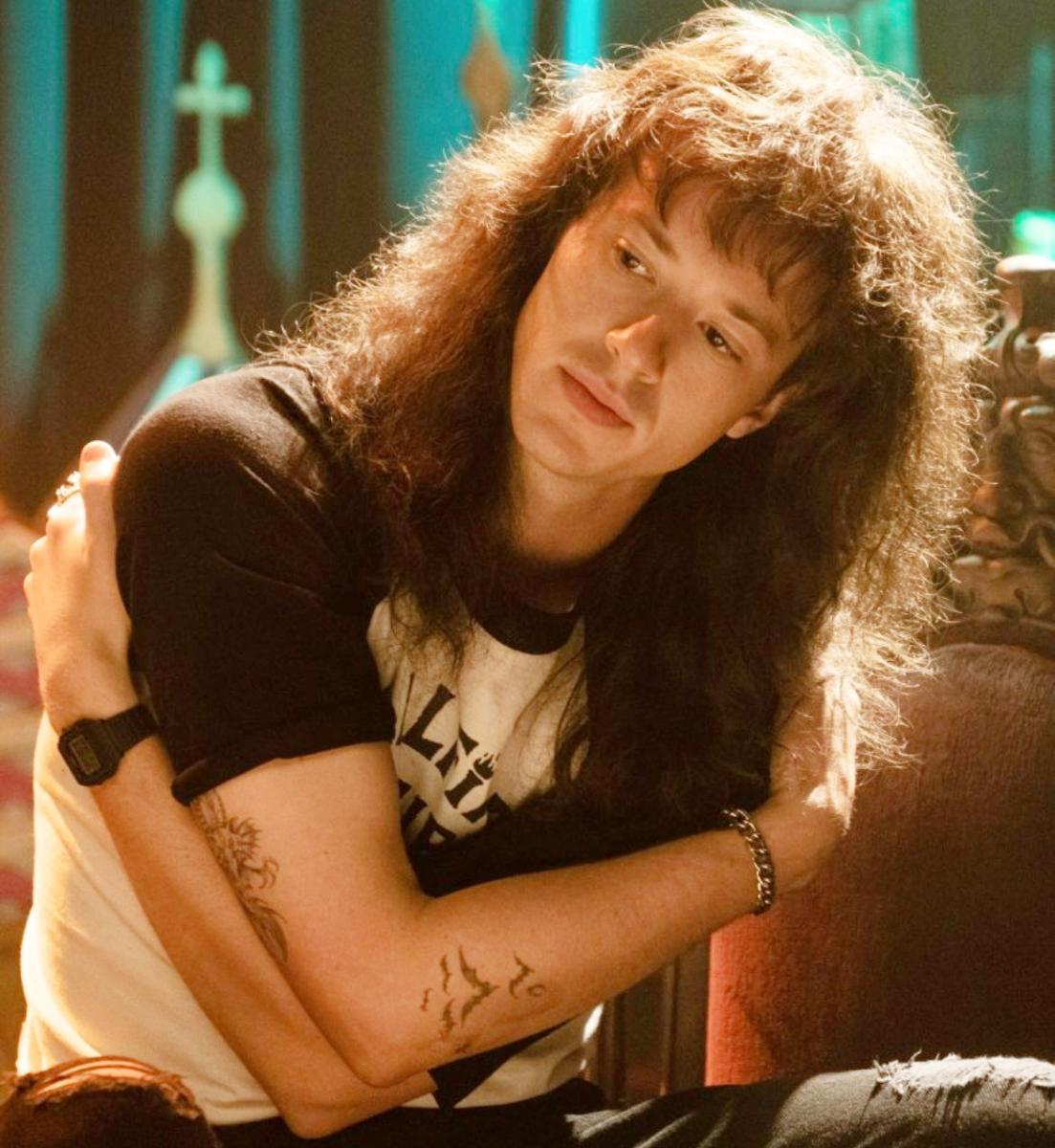 Here are the five tattoos:
1. The bats – six flying bats on Eddie's right forearm
2. The Wyvern – a dragon-like demon on the back of Eddie's right arm
3. The Spider – on the left of Eddie's chest
4. The Demon – on the left of Eddie's chest, under the spider
5. The puppet master – on Eddie's right inner forearm
Hidden meanings?
Many fans are debating whether Eddie's tattoos symbolize his possible resurrection in season 5. [link to vampire theory]. Could his tattoos really reveal his return? If they don't, they was certainly a lot of foreshadowing involved, that's for sure!