ATEEZ Aims To Start a Revolution in K-pop Industry By Accomplishing Achievements Left And Right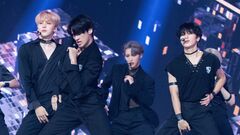 …And stealing our hearts along their journey.
K-pop group ATEEZ, consisting of 8 members, is known for its rebellious concept of the gang fighting for the human's rights to express joy in an imaginary society where dancing, music and emotions are forbidden. Well-thought concept, capturing two universes, as well as carefully crafted release dates and promotions that connect with the group's own massive lore definitely attract eyes and ear of fans and casual public, which can be proven by a streak of achievements that ATEEZ earns in their new 'The World' era. They just can't stop winning over our hearts, can they?
The new EP album by ATEEZ, called 'The World EP.1: Movement', recently debuted on Billboard and confidently took a second spot on the Weekly Top-selling Albums list, showing worldwide interest in the group's new release. With that being said, ATEEZ has officially become the 5th boy group in K-pop history with their album scoring Top-3 on a Billboard 200 chart.
Not only that, ATEEZ continues their lucky streak by winning another crown on a weekly music show The Show. The joint efforts of the fandom, agency and general public put their title song 'Guerilla' in the spotlight for another week. As they say, the devil works hard but ATEEZ works harder. They have earned themselves a tenth music show win with 'Guerilla' being crowned four times already, as well as getting ATEEZ their first double-crown on the same show.
'Guerilla' was released on July 29. In the song ATEEZ expressed their desire to 'wake up the world'. The futuristic concept and heavy electronic music demand people will listen, stop being held back and finally start breaking walls and dancing (remember that this is a forbidden thing in their alternate universe?). Well, they succeeded, it is impossible to stand still after hearing that hype chorus and exploding beats!
If you need more evidence of the huge potential and power this group holds, you should know that this song became the 4th Generation Boy Group song with the most music show wins in 2022.
ATEEZ is certainly one of the most prominent boy groups in the 4th generation of K-pop with their impressive storyline and music and is worth watching out for. Seems like these guys are breaking all walls set in front of them and possibly… they could indeed start a revolution in the K-pop industry along their way?