Barry Keoghan's Joker From 'The Batman' Deleted Scene Got People Talking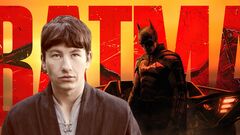 Many actors have portrayed notorious DC Universe villain, Joker. Most recently, the character has been brought back to big screen by Joacquin Phoenix, with the role securing him an Oscar.
Ladies and gentlemen, please welcome the new Joker in Gotham town: portrayed by Barry Keoghan, the Batman's archenemy appeared in one of the deleted scenes from 'The Batman' directed by Matt Reeves.
Keoghan himself took to Twitter, saying that he is "stuck for words" but feels very blessed to inherit the role after a row of amazing actors before him. He also shared the first look at his version of Joker.
The new Joker has predictably sparked debates online. And while some people have already suggested that Keoghan "aced" Heath Ledger's performance, others were not that fond of his version.
Someone praised the make-up team for providing a realistic look at someone whose body was damaged by chemicals.
Others found their own way to express whatever feelings they had about Keoghan's Joker. Yes, we're talking about memes.
Ah, now everything falls into place!
While Keoghan's Joker did not appear in the movie, we can most likely expect him to bring some horrifying fun into new DC movies later. As of now, we can only welcome Barry to the fraternity of Jokers: among Heath Ledger, Joaquin Phoenix, Jared Leto, Mark Hamill and many others, we now have one more actor to be a part of the never-ending contest for the best Joker.