Ex-'Glee' Star Matthew Morrison Fired From 'So You Think You Can Dance' After Flirting With Contestant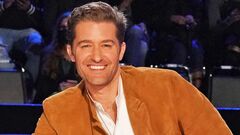 Years pass by, and the 'Glee' cast is still problematic.
Former star of 'Glee ', Matthew Morrison, has been booted from 'So You Think You Can Dance' judge panel, after sending inappropriate flirty text messages to one of the contestants, People reported.
"They didn't have sex, but he reached out to her through flirty direct messages on social media," a source familiar with the situation told the outlet. "She felt uncomfortable with his line of comments and went to producers, who then got Fox involved. He was fired after they did their own investigation."
Social media users, with the image of Morrison's 'Glee' character William Schuester still fresh in their memory, immediately suggested that the line between the actor and the character "continue to be blurred". Mr. Schue was also notorious for a couple of questionable episodes in 'Glee', although one might argue that the entire show did not age well.
The news of Morrison exiting the dance competition emerged several days earlier, but the juicy details are revealed just now. The former 'Glee' star initially said he left the show after failing to follow "competition production protocols." He has yet to comment on the new allegations.
"I cannot apologize enough to all involved and I will be watching alongside you all on what I know will be one of the best seasons yet," he said earlier.