Ezra Miller's Future in 'The Flash' is Questioned Amid His Recent Behavior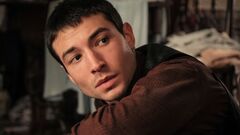 Seems like public outbursts are no good for your career, and we had plenty of recent examples to prove it (and no, this is not another Will Smith news).
Ezra Miller has had a tough time recently. In late March he was arrested after becoming agitated in a Hawaii bar after someone started singing karaoke, having been released later on $500 bail. Needless to say, Ezra had little positive press after the incident; so the DC and Warner Bros. executives are now questioning his future in 'The Flash '.
They ultimately decided to push the brakes on any upcoming projects that involve Miller, according to Rolling Stone.
Moreover, it turns out that Ezra had "frequent meltdowns" during 'The Flash' production last year. And while there were no violent incidents or squabbles, Rolling Stone reported that the actor was "losing it".
And although no one is rushing to defend Miller's future in the DC universe, fans feel concerned for him, as they call out the studio for failing to act on time.
Now that Ezra's position in 'The Flash' is teetering, fans are calling for the CW Flash, Grant Gustin, to replace Miller.