Fans Are Confident Wesley Snipes Will Join MCU as Blade After Hugh Jackman Comeback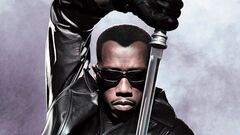 With Jackman and Stewart already appearing in the MCU, there is just one person left.
The bombshell announcement by Ryan Reynolds that Hugh Jackman will once again suit up as Wolverine in Deadpool 3 has sparked dozens of fan speculations as to what it may indicate for the MCU future.
Many people are seeing a pattern in how Marvel brings back its icons since the beginning of Phase Four. What started as an unreal team-up of every movie Spider-Man in existence has quickly turned into a cameo by Patrick Stewart in Doctor Strange and now into the Hugh Jackman return. What could possibly be next?
According to fans, it's not a hard guess: with a Blade reboot in plans, there is no way Marvel Studios would not ride the hype wave and bring Wesley Snipes back – even if he will only be one of the variants.
"Do we not a pattern here Toby and Andrew returns in nwh patrick Stewart returns in mutiverse of madness now Hugh Jackman returns in Deadpool 3. They'll definitely announce Wesley snipes as a blade variant in the new mcu blade somehow watch." – u/Current_Ad_9850
Snipes portrayed the iconic vampire slayer in the original Blade movie trilogy that assembled Stephen Norrington, Guillermo del Torro and David S. Goyer as directors. Many people argue that the original trilogy never even needed a reboot, but now that it is in the works, fans are clearly craving more multiversal opportunities.
"Imagine a team up between Wesley Snipes Blade and Nick Cage Ghost Rider. That's what we're starving for next. Plus if they pull the Council of Reeds from the comics, would be awesome to see both previous actors return in cameo roles." – @M1SS1NGN01101
However, things are quite grim for the new Blade movie currently. With the film losing its director Bassam Tariq and star Mahershala Ali being reportedly disappointed with the process, the return of someone iconic and universally-loved might be one of the few ways to save the movie.
Production was due to start this November with the release date slated for November 2023 – a deadline that is now likely to be pushed.