'First Kill' Showrunner Reveals Who To Blame For Series' Cancelation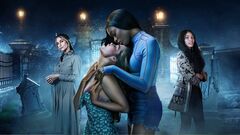 The culprit might not leave you too surprised, though.
Having learned that lesbian vampire drama 'First Kill' is never getting a season two, fans went ballistic, unleashing their anger on social media and demanding to know how the show that did so well in rating never managed to meet the completion demands to get renewed.
Well, here's how: according to the showrunner, Felicia D. Henderson, it was about the failure of Netflix 's marketing team to properly sell and deliver the story to the audience.
In an interview with The Daily Beast Henderson said that in the marketing campaigns, the show appeared to be nothing short of a lesbian teenage vampire love story — which it is, but the promo never dug deeper to offer something else to the audience.
"I think I expected that to be the beginning and that the other equally compelling and important elements of the show—monsters vs. monster hunters, the battle between two powerful matriarchs, etc.—would eventually be promoted, and that didn't happen," the showrunner explained.
Right after hearing about 'First Kill' being cancelled after season 1, fans were quick to blast Netflix for going after lesbians, who never seem to be "good enough" to be given a chance to continue their story.
However, Henderson nodded to Netflix's production team, thanking it for taking an initially healthy approach to the show.
"They licensed the IP, paid for a pilot script, and gave it a healthy production budget," the producer told The Daily Beast. "The creative team was very supportive when we were shooting the show under harrowing conditions—before there were 'vaccines for all' in Atlanta, a very overcrowded production hub."
But the lack of proper marketing that would lure all kinds of audiences to the show and give people the time to "discover" the story appeared to be the very aspen stake that stabbed the vampire lesbian drama right into the heart – despite it clearly having much more to offer, according to the showrunner.
"The other reason I so enthusiastically signed on to this show is that It has something for everyone—strong women leads, supernatural intrigue, an epic, Shakespearean battle between warring families, and a prominently featured Black family in the genre space, something Black viewers crave and a general audience needs to be treated to," Henderson pointed out.
'First Kill' fell victim to its low completion by viewers – despite the show securing a place in Netflix's Top 10 English-language shows at some point, it seemed that the audience failed to finish watching. Many people who are less emotional about 'First Kill' downfall than its faithful fans point out that the series lacked good storytelling and compelling performance by actors.