Here Is The Reason GOT7's Park Jinyoung and WINNER's Kim Jinwoo Called 'Angels'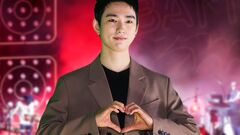 It is always heartwarming to see K-pop idols that positively influence the society and inspire people around them.
On August 8 citizens of Seoul, Korea's capital, were caught off-guard by an unexpected weather catastrophe. A heavy rain fell in the central region of the city, causing a terrifying flood that covered the streets, submerging cars and buses, as well as a lot of apartments in the basement and first floors. In some places the water level reached the traffic lights, stopping the movement and wrecking trees, street signs, people's homes and causing even more horrible incidents. More than seven people have reported to be dead already and many went missing.
To help the flood victims recover, many Korean celebrities eagerly donated to the Hope Bridge under Korea Disaster Relief Association.
Two K-pop idols stood out with their immediate support. Member of the boy group GOT7 and popular actor Park Jinyoung has kindly donated a generous amount of 30 million won to the organization. According to Hope Bridge, he was concerned that the damage would keep increasing and urgently expressed his desire to support the damaged areas. Park Jinyong has been making donations consistently: for example, in 2020 he also donated money to help victims of another flood.
Another K-pop idol, Winner's Kim Jinwoo donated 10 million won to the same cause. As his fans have heard the news from Korean reporters, they expressed their admiration for the celebrity, being proud of his positive influence.
"The two things Jinwoo is committed to spend money on: charitable donations and his skin care routine." – @_suzino
This isn't the first time Kim Jinwoo has made a donation. He also donated the same amount in April 2019 to recover the damage done by a forest fire in Gangwon-do and sent another sum of money in September the same year to help victims affected by the typhoon. In 2020 he donated 10 mln won to prevent the spread of COVID-19.
Knowing about these celebrities' good deeds throughout the years, some Koreans have started calling them 'donation angels'. Fans were also touched by the fact that both idols didn't even brag about their donations, preferring staying silent, as if it was a casual thing – yet it could indeed help in recovering the damaged parts of Seoul and ordinary people's lives.
Among other Korean celebrities who donated to help victims after the flood were Kim Hyesoo ( donated 100 million won, the biggest amount so far), actors Kang Taeoh and Im Siwan (20 million won each), actor Hong Soohyun, broadcaster and comedian Yoo Byungjae who donated 10 million won each.