Here's a Pattern With Sadie Sink's Characters That Can Save Max in 'Stranger Things'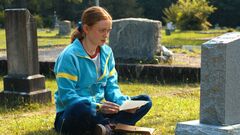 A curious fan theory gives as a bit of much-needed hope.
With 'Stranger Things 4' dramatic season finale putting Sadie Sink 's Max into a Vecna-induced coma, fans are anxious about what's going to happen to her next. Eleven managed to save her from dying (arguably by resurrecting her), but Max's mind seems to be far from okay, given that El is not even able to identify it in the darkness.
There are few clues in 'Stranger Things' that might point to Max coming back, so fans turned to… other shows Sadie Sink was in.
And it turns out that her characters do share an interesting pattern: they die, for just a couple of moments, only to come back later. That's exactly what happened to Sink's character Ziggy in 'Fear Street': after a face-off with the conduits of the show's antagonist, Sheila, it seems that Ziggy won't make it.
But in the end, she does, and there we have it: a Sadie Sink character brought back to life.
"Too soon for jokes but Max and Ziggy died and then they came back to life again so Max will wake up from her coma in s5. TRUST." – @mcyfield.
Now that Max isn't technically dead, hopes are this is indeed a pattern, not just 'Stranger Things' fans desperately reaching out for clues that could point to their favorite character being okay.
It might be too early to give up hope. Many fans have reasonably argued that the Duffer brothers could have just killed Max off if they wanted.
"If they planned for her to not come back they would have just killed her off. She was this seasons MVP, no way she doesn't feature in S5. I bet we'll see her in the upside down or something before everyone else in the show does." – @markemer.
Still, even if Max does wake up or return from her coma in any other form, fans fear that she is going to be far from okay.
"I wonder what will happen to Max once she wakes up. I think she's gonna be blind. My girl didn't deserve all of this." – @swiftlyranziie.
The worst thing about this is that we will have to wait for over a year to know more about Max's future. With season 4 wrapping up on July 1, the fifth and final chapter of 'Stranger Things' is going to conclude the story of Hawkins and the Upside Down. There is an optimistic note to that, as the Duffer brothers said that the "gap [between the seasons] should be quite a bit shorter this time"... unless there is another six-month forced hiatus.
'Stranger Things 4' is currently streaming on Netflix.