Here's Why People Are Talking About Jamie Campbell Bower in 'The Rings of Power'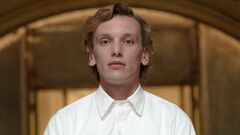 It's been a busy year for the actor so far.
His recent performance as Vecna in Stranger Things 4 made the character an instant hit, potentially earning him a spot as one of the most formidable TV villains. It's therefore no surprise to hear people are fan casting him as Sauron in the new 'Rings of Power' series from Amazon.
Who is Jamie Campbell Bower
Bower is a prominent English actor and musician who has been appearing in feature films since his role as young Anthony Hope in Sweeney Todd: The Demon Barber of Fleet Street (2007). He was only 19 when the film was released, yet he starred alongside some big Hollywood actors including Johnny Depp, Helena Bonham Carter, Alan Rickman, Timothy Spall, and Sacha Baron Cohen. Since then he has appeared in several starring roles in some high-grossing films including: 'The Twilight Saga, 'The Mortal Instruments: City of Bones,' and 'Harry Potter and the Deathly Hallows – Part 1'. He even reprised his role briefly as a young Grindelwald in the 'Fantastic Beasts ' spin-off movies.
Why do fans think he is the best choice for Sauron?
Bower's fanbase has grown considerably since his introduction to Stranger Things earlier in the year. And it is because of his portrayal as the series' predominant antagonist, that they think he has the perfect acting credentials to succeed in the role. Contributors of the r/LOTR_on_Prime community on Reddit have noted the vast similarities in Vecna to Sauron and how Bower would be the perfect casting for such a role.
Several commenters agree he has incredibly unique facial expressions which can portray Sauron's formidable demeanor perfectly. Not to mention the actor's noticeable good looks, which support the sworded backstory of the character's deceiving and manipulative nature. He already has experience playing some of fiction's most recognized baddies. And has certainly honed his skills both vocally and in his presence, to deliver the persona of a malicious and truly evil character. In general, everyone seems to be in agreement, he would certainly make a perfect choice for the role.
Will Jamie Campbell Bower play Sauron on The Rings of Power?
Unfortunately, it is unlikely we will be seeing Bower as Sauron in the series. At least anytime soon. Although Amazon has yet to announce who has been cast as Sauron. There are however some speculations as to whom it may be. Some are considering the stranger from the meteor (played by Daniel Weyman) or Galadriel's new castaway acquaintance Halbrand (played by Charlie Vickers) as potential contenders. Bower's schedule with Stranger Things would have almost certainly left him unavailable for the role. I guess in a world without Jamie Campbell's Sauron, we at least have Vecna instead.