Meryl Streep's Idea For Mamma Mia 3 Soap Opera Is Actually Amazing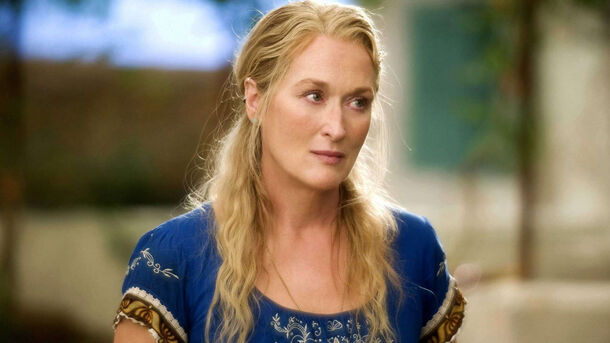 Can someone pitch that to ABC?
If there is one genre that truly lacks new content, it is the soap opera. Although the ratings of the shows already on the air have been slowly but steadily declining over the past decade, many viewers believe that a breath of fresh air could actually revive the entire genre and bring viewers back to daytime television.
Whether that's true or not, we won't know until a major network takes the risk and tries the idea. However, there is already a great pitch being made by none other than Meryl Streep: Mamma Mia 3, but make it soap!
While fans of the iconic musical are clamoring for a sequel of some kind, the older members of the cast aren't sure if they or their characters would be able to appear.
Stellan Skarsgård is the least positive with the idea of returning in a "pile of ashes" form. His co-star Meryl Streep, who was the real star of both previous parts of a franchise, has a more creative solution that would really blow the viewers' minds.
The actress shared her idea while discussing Mamma Mia with Vogue alongside her castmates:
"I'm up for anything. I'll have to schedule a knee scoping before we film, but if there's an idea that excites me, I'm totally there. I told Judy if she could figure out a way to reincarnate Donna, I'm into that. Or it could be like in one of those soap operas where Donna comes back and reveals it was really her twin sister that died," she declared.
Considering that the first part of Mamma Mia already has everything that could be called at least a little soapy, the third part would only have to keep up with the existing amount of romantic drama and, of course, bring Donna back from the dead.
After all, maybe Sophie may find herself in a similar situation to her mother years later? Who knows, what turn her and Sky's marriage could take? The audience would be willing to accept any level of insanity as long as it happens during ABBA classics.
Although the team seems excited about the idea of a third film, there are no definite plans for its production. Until the idea is solidified, you can watch Mamma Mia! and Mamma Mia! 2 on Netflix or Amazon Prime Video.
Source: Vogue