One Director Called Keira Knightley a 'Supermodel' and… Meant It as an Insult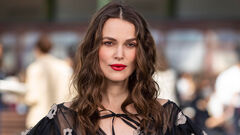 This director insulted the Pirates of the Caribbean star by claiming he'd never "make a film with supermodels again." Who was it, why did he say it, and how did this feud unfold?
While Keira Knightley is largely famous for her other projects like Atonement, Anna Karenina, The Imitation Game, and Pirates of the Caribbean, it was her 2013 movie Begin Again that caused this feud.
Admittedly, the famous actress didn't exactly get along with director John Carney, and he decided to be vocal about it.
After the movie failed at the box office against all expectations, the director gave an interview to The Independent UK in 2016 where he called his lead star out for being a "supermodel" and not an actress and also took the time to point out her weak spots.
"I learned that I'll never make a film with supermodels again. <...> I don't want to rubbish Keira, but you know it's hard being a film actor and it requires a certain level of honesty and self-analysis that I don't think she's ready for yet and I certainly don't think she was ready for on that film," Carney told The Independent.
Other than calling the actress a "supermodel," he also went on to explain how she couldn't sing and play the guitar the way he expected (casting, hello?) and that her fame complicated things since she'd always had an "entourage" following her.
Soon after the interview, the director went live on Twitter (now X) to apologize for his insulting comments about Keira Knightley. In the post, he claimed he'd gone through and spoken to her in person, too, and that she'd accepted his apologies. John Carney called himself "a director who feels like a complete idiot."
Keira Knightley herself, apparently, didn't take the insult too close to heart. Later, she spoke to Irish Central to comment on this situation, and her reaction was pretty relaxed. She even shed some light on the whole feud with Carney.
"I was sort of thrilled: I've been called many things in my life, many worse things – but I've never been called a supermodel. Thanks! It was a very difficult shoot. We didn't get on. It's just a thing that happens sometimes and I say that with no blame. It takes two to tango. <...> And I've accepted that apology," the actress shared.
Sources: The Independent UK, Irish Central