Long-awaited trailer for the upcoming 'Thor: Love and Thunder' contained many mysteries and Easter eggs for Marvel fans to discover, yet its biggest secret appears to be pretty mundane – what's going on with Thor's look?
During the climactic battle at the end of 'Thor: Ragnarok', the Asgardian hero lost his eye in the battle with his evil sister Hela. Later Rocket gave him a prosthetic brown eye, which did not really match his former light blue eyes. Fans were quick to love his newfound look, so imagine their surprise when in the 'Love and Thunder' trailer Thor appeared with matching blue (!) eyes.
A special Reddit page, devoted to cracking the weird 'Thor's eyes' enigma, was quickly created, with dozens of fans trying their best to find a reasonable explanation for this unexpected color change.
As of today, there are only two theories for this.
The first is that while traveling with the Guardians of the Galaxy, Rocket simply found a new prosthetic eye that matched the color of Thor's remaining eye. It's quite realistic, but somehow disappointing. Caedyn_Khan perfectly explained how the fandom feels about that theory, saying that "I'm kind of bummed. I loved his one blue / one brown eye look, so hopefully, they just didn't bother changing the color for the trailers, but they will for the movie".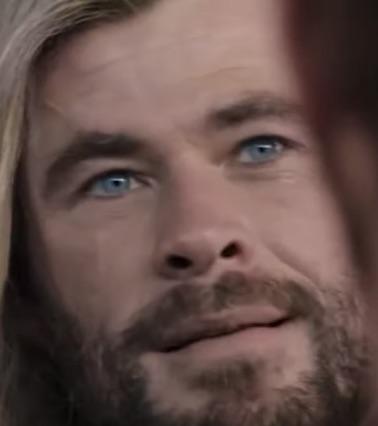 The second theory is more plausible to the fans. Perhaps, trailer was created in a great rush, so Thor's eye wasn't touched by CGI at all, and was left with Chris Hemsworth's original color – blue. As xsupermonkeyboyx puts it: "CGI is still being worked on and this just hasn't been touched yet, they do appear to be Chris's natural eye color".
We'll find out which side is right when 'Thor: Love and Thunder' finally hits theatres on July 8, 2022.