One Thing Kristen Stewart Has Kept After Finishing Twilight (For A Very Wholesome Reason)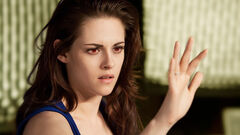 No, it isn't Robert Pattinson.
One can only imagine how actors feel when they're done working on a franchise as huge as Twilight. Although we can guess from Robert Pattinson 's various interviews that the Twilight era is over for most of the cast, there were probably enough warm memories to keep.
One of the easiest ways for actors to keep the memory of a project they've done alive is to take a little souvenir from the set. While some prop masters allow it easily, other times the actors have to be sneaky, but more often than not, everyone takes something meaningful home.
Kristen Stewart, who played Bella Swan, was no exception.
In a 2012 interview with Collider, the actress revealed that she took Bella's rings home with her. She was particularly fond of the ring that reminded her of working with director Catherine Hardwicke.
"The rings were really important to me. Her mother gives her a moon ring, in the beginning. It fully and completely reminds me of Catherine Hardwicke, every time I look at it. Other than that, she's not really into stuff. There weren't a lot of props, so that was probably it. The rings were really, really extremely important to me," Stewart stated.
After spending almost 5 years of your career filming a huge franchise and getting your acting breakthrough from it, the desire to hold on to those memories is completely understandable. Besides, without the director's vision and a strong lead, the movies might not have been half as successful as they were.
Kristen Stewart wasn't the only one from the Twilight cast to steal some props. Her co-star Robert Pattinson, who portrayed Edward Cullen, was less sentimental and more practical, as there were several reports of him stealing his character's underwear. To each his own!
If you want to feed into the nostalgia and rewatch all five adaptations of Stephenie Meyer's books, you can purchase them in order on Amazon Prime, Google Play, or iTunes.
Source: Collider