Royals at Fault: Here's What Made Meghan Markle Leave the UK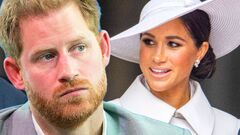 It wasn't all Elizabeth II who drove prince Harry's wife out of the palace and the UK entirely.
Meghan Markle decided to move back to the United States because of racist remarks she constantly had to deal with while staying in the UK. Details of the Duchess's life at Buckingham Palace were shared by biographer Tom Bower in his book Revenge: Meghan, Harry and the War Between the Windsors.
According to the royal expert, when Meghan Markle first began her relationship with the Queen's grandson, she was often confronted with very inappropriate statements related to her skin color. One of the most offensive was a joke made by the wife of Prince Charles Camilla Parker-Bowles. She once remarked that it would be funny to see Prince Charles' heir with a "red afro".
Meghan and Harry themselves have also repeatedly stated the racism the actress has faced while living in London. Allegedly, all members of the royal family as well as servants tried to emphasize her ancestry.
In the end, as Bower is sure, it was these remarks, and not just the Elizabeth II's personal attitude, that made Meghan Markle initiate the move with her husband back to the United States and finally ruined her relationship with Prince Harry's family.
Meghan Markle-related racist scandal does extend outside the royal family: just a couple of weeks ago it was reported that several MET police officers now face misconduct tribunal after sharing some highly inappropriate racist messages about Meghan Markle, even comparing her to a golliwog in one of them. No wonder prince Harry doesn't want to go back on British soil: seems like Meghan, Harry and their kids going back to the UK is highly unlikely at this point, given how poorly Markle was treated there and the fact that the actress actually has no particular ties to the UK.