'Stranger Things' S4: New Poster Might Hint at Who Will Die in Vol 2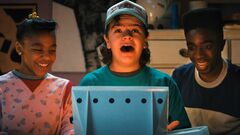 The closer July 1 is the more concerned fans grow for their favs' future.
The premiere of the epic finale of 'Stranger Things ' season 4 is days away, and fans just cannot act casually. As people are hyping themselves up, the new poster for Volume 2 is of great use, with several details that, fans believe, might be hinting at the characters that are in danger.
Something that especially disturbed the fans was how Max is pictured without her headphones; even though the final episodes of Volume 1 have established that she preferred to take them with her wherever she goes. This is due to Vecna being potentially after her following her lucky escape from his curse with the help of her favorite song.
Another detail that got fans concerned is Steve depicted riding a bike along with some other Hawkins gang members, but his bike is the only one that doesn't have its light on. Having already spent weeks worrying about Steve's future, fans immediately thought that the poster details might be hinting at his potential death in the finale.
Some fans recalled how the poster for the third season had everyone who ended up dead pictured on the bottom. Well, it might be a disturbing parallel for both Volume 1 and Volume 2 posters, with the first one having Murray, Jonathan and Argyle on the bottom, and the second one placing Steve, Nancy, and several other characters on the upside down part of the poster.
Will it help if we offer you not to get too anxious and just calmly wait for Volume 2 to drop on July 1 and see for yourself? We thought so. But at least you have some time to morally prepare yourself for the dramatic showdown that Volume 2 is definitely building up to be.