SUPER JUNIOR Heechul Revealed WINNER Seungyoon And Jinwoo's Drinking Habits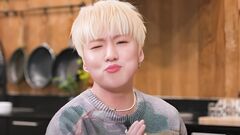 These K-pop idols were just happy to find another drinking partner from outside of their usual company.
Collaborations between artists from SM and YG Entertainments happen so rarely, making every show a gem for fans. In one of the episodes of Street Alcohol Fighter, a drinking variety show, YG's 'drunkards', Winner Kang Seungyoon and Kim Jinwoo, came to challenge SM's 'drunkard' Kim Heechul. With never-ending energy and witty chaotic humor, the three idols engaged in discussions over the homemade brewed beer and expensive whiskey.
On the show, WINNER's members were ready to uncover many of their personality traits for the fans. During the topic that couldn't be avoided in such a setting, they compared their drinking habits and alcohol tolerance. Heechul was shocked when he found out that Seungyoon couldn't really drink yet he always stayed alive during any get-togethers. After that, Jinwoo confessed when he gets wasted, he curses and then leaves, making the staff around gasp in surprise. It seems like his young and charming face left a different impression on them.
Seungyoon tried to save the situation by explaining that Jinwoo was the type to get very excited when drinking, so his personality happened to change drastically after consuming alcohol. Indeed, the viewers could witness Jinwoo's hotheaded drunken behavior as the show progressed.
Both Jinwoo and Seungyoon named whiskey their favourite drink, as well as their teammate Minho's. Heechul joked that they are drinking that because WINNER members are rich. Jinwoo also loves soju while Seungyoon can't really drink it because 'he becomes dangerous', as he explained himself.
WINNER members roasted each other, shared funny stories about the K-pop idol industry together with Heechul, and even touched on the delicate topic of dating. Sincere talks and compliments also took place. Seungyoon admitted feeling hurt and frustrated hearing about teammates' hard times through other people.
The idols kept a warm atmosphere in the studio, filled with banters and jokes, as they drank about 18 cups of beer in just the first round and changed to the other location to continue their party with Ballantine whiskey.
In the second round of this friendly drinking competition between SM and YG's idols, everything got even crazier. Jinwoo, Heechul, and Seungyoon engaged in tipsy debates, twerked to exciting music, and even tried to invite staff to drink with them. They ended their unforgettable party by singing karaoke, full of drunk emotions.
Overall craziness and carefree behavior made fans laugh endearingly at the interaction of their favourite idols, known for being chaotic. It seems like they didn't expect anything less from WINNER's Seungyoon and Jinwoo, and Super Junior's Heechul.
"That was really nice to watch but why am I tearing up? I loved that this show just gave them the chance to be just themselves, natural and honest, mentioning topics that usually would be unfortunately avoided in a broadcast with idols and the 3 of them were able to just have a good time in such a comfortable atmosphere...that's beautiful." – Niki
Recently, WINNER has returned to Street Alcohol Fighter, making it the season 2's last drinking session. Along with Ji Sangryeol, whose video earned almost 3 million views, Seungyoon and Jinwoo were invited because they had consumed 19.5 cups of alcohol during the first episode, and no other guest was able to beat their record so far. Remembering their previous filming experience, all of them admitted to being totally wasted, except for Seungyoon, who stayed true to his words and stayed in his senses, even managing to politely tell goodbye to the crew.
Fans were excited to witness the get-together of the 'legendary drinkers'. In this episode of Street Alcohol Fighter, four celebrities compared drinking habits and traditions across different generations. Seungyoon and Sangryeol have found an unexpected bond between them, which resulted in them acting out drama scenes as if they were a dad and a son.
Seungyoon and Jinwoo also passed their limits of alcohol tolerance while sharing precious memories with Heechul and Sangryeol and giving their fans many hilarious moments.
"Are Suju and Winner like official representative idols for drinking?! lol! I just love that Suju or Winner is always there is there is a drinking programme!" – Purps 2