'The Walking Dead': Final Episodes to Address Season 1 Zombie Plot Hole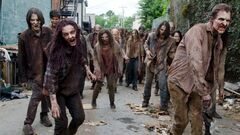 Finally, a plot hole fix everyone might have been waiting for: the final eight episodes of 'The Walking Dead ' will address the "smarter" zombies that were introduced in season 1 but then apparently ditched in favor of less savvy walkers.
The problem was that the zombies in season 1 were able to arm themselves, climb ladders and even throw stuff at people. It was surely adding some suspense but also seemed to make the job too easy for the zombies – which is why, some fans suggest, the showrunners decided to make the walkers somewhat dumber.
However, showrunner Angela Kang revealed at the San Diego Comic-Con panel that the show is going to bring back smarter zombies. In one of the latest trailers for the show, Aaron is heard saying that he heard of walkers capable of climbing walls and opening doors now. Imagine just how much more complicated survivors' life could instantly become!
But why were smarter walkers ditched after season 1 in the first place?
"I think with the walkers, in some ways it's a throwback to some walkers we saw back in the very, very first season of 'The Walking Dead,' but not everybody ever encountered those walkers," Kang explained. "It's almost like it was a variant that just was regional."
It seems that the resolution of what's been so far seen as a plot hole is long-awaited.
"I always hated how they changed the walkers halfway through s1, they could climb/rub and pick stuff up to use as weapons. I would have loved to see how they survived through that." – / East_Establishment28
Indeed, fans have been questioning the sudden disappearance of inventive zombies for several years now, sometimes remembering about their existence when rewatching the show. "Rewatching The Walking Dead S1 and remembering, oh yeah, there was a time when walkers could climb ladders and use rocks to bash through glass," one of 'The Walking Dead' fans wrote on Twitter back in 2018.
New variants are frequently introduced in the show's universe. In 2021, 'The Walking Dead: The World Beyond' welcomed "a different kind" of zombies who could walk faster. Now that the smart ones are coming back, Daryl and the rest of the survivors might want to change their strategy and accommodate to the new dire conditions.
However, the comeback is not exactly a tribute to where the show had started. Instead, it might be more of creating a path to further spinoff series – even though Kang seems to be committed to the idea of the original show having its own definitive "closure". This has to happen even if there are spinoffs at all, the showrunner clarified.
New episodes of 'The Walking Dead' will arrive in October, with the season finale scheduled to premiere on November 20.