Who is Gaten Matarazzo's Girlfriend?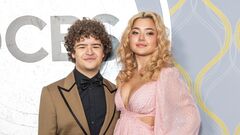 In 'Stranger Things', Dustin is in love with a little tech genius from California, Suzie. What about the actor himself?
As one of the main 'Stranger Things ' star, Gaten Matarazzo has to deal with a lot of attention not only to his acting portfolio but also to personal life. And while his character has already found his love, does the actor follow the lead?
As a matter of fact, he does. Gaten has a girlfriend, whose name is Lizzy Yu. She too enjoys popularity on social media, having some 438 million subscribers.
Just like Matarazzo, Lizzy is also an actress, who one may very soon see in 'Avatar: The Last Airbender' TV-show and 'Somewhere in Queens'. In 'Avatar', Yu is set to portray Azula, a princess of the fire nation.
The two have recently marked four years together. With Gaten surging to global fame due to 'Stranger Things', Lizzy has naturally gained some attention as well, but she is not willing to be described as "this 'Stranger Things' guy's girlfriend".
In her Instagram profile bio, she wrote "I am not any more valuable simply because of who I love. I create my own value". That's a sentiment we could get behind!
Lizzy and Gaten's romance began in 2018, and the two have been pretty public about it, as 'Stranger Things' star would frequently share some pics of his girlfriend, never forgetting to mark an anniversary with a lovely post. In an interview with Esquire, Matarazzo revealed that the two are living together in a New Jersey apartment with three cats.
The only mystery is the story of how these two lovebirds met. Neither of them has seemed to break it down, although one of Lizzy's Instagram pictures with Gaten is captioned with a telling line "I will never think of High School without thinking of you".