His character had a chance encounter with Arya and managed to stay alive after that.
Long before his frankly phenomenal rise to stardom, everyone's favorite actor from 'Stranger Things' season 4 actually starred in another hugely successful series. Not that many people know this or realized it at the time, but several years ago Joseph Quinn starred in 'Game of Thrones' – although the show didn't end up being his big break.
Joseph Quinn, who rose to fame earlier this year thanks to his role as charming punk rocker Eddie Munson in Netflix's biggest series, began his acting career in 2015, starring in several British series such as 'Dickensian', 'Howards End' and 'Strike'. These roles were important but ultimately too small for the general audience to appreciate Quinn's charming presence – and it was 'Stranger Things' that really allowed Joseph to shine and flex his acting chops proudly. However, long before 'Stranger Things' there was another big show that could've been Quinn's big break: in 2017 he starred in 'Game of Thrones', albeit in yet another insignificant role.
Quinn played a character named Koner in 'Game of Thrones', and don't feel bad about yourself if you haven't recognized this character right away. Joseph Quinn appeared in the season 7's episode 4 'Spoils of War', portraying the gatekeeper of Winterfell who refuses to let Arya in. Quinn's character didn't even die in 'Game of Thrones', notorious for killing its characters systematically and rather unceremoniously. No, he just disappeared, never to be seen again, and that was it.
Fun fact: Joseph Quinn is not the only 'Game of Thrones' actor who also starred in 'Stranger Things' season 4. There's also Enzo/Dimitri, Russian prison guard, who was played by 'Game of Thrones' veteran Tom Wlaschiha.
Here's Joseph Quinn as Koner in 'Game of Thrones' season 7, looking rather unrecognizable: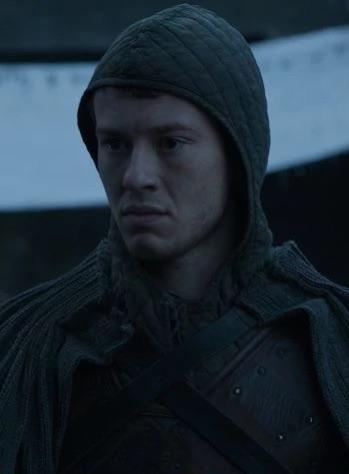 Quinn wasn't a big name back then, and his talent was pretty much squandered on a small episodic appearance that was destined to go unnoticed by almost everyone. But the Duffer brothers seemingly appreciated Quinn's role in 'GoT', among many others, of course, inviting Quinn to star in 'Stranger Things'.
And it seems they were quite right to give Quinn the opportunity to spread his wings, as fans are eagerly awaiting the British actor's next projects.
"In a season with a lot of standout performances, Joe was a gift from the demogods. I need to see his career take off, and if Netflix is smart they'll keep him close for future projects," – as one of the fans put it on Reddit.
Now that Quinn's finally got some recognition, fans are starting to rediscover his previous projects, a role in 'Game of Thrones' included – and it's no wonder that once again they have been reminded of how badly last seasons of 'GoT' were received by the audience. "Came to see Eddie Munson. His scenes in Stranger Things are much better than the entire last 2 seasons of this," one of the fans noted.