Why Steve Harrington Defied the Odds and Survived Another Season
"Steve will probably die next season" has been a thing since Stranger Things hit the screens. However, the beloved character got to the final season against all odds.
The Duffer brothers revealed earlier this year that fans had been right all along and Steve's death was planned for Season 1 of Stranger Things. However, the performance of Joe Keery made them change Steve's arc.
"You're learning what works and what doesn't work. The cast is impacting where you take the narrative," Matt Duffer said (via Rotten Tomatoes).
Though the creators couldn't recall when and how the death of the character was supposed to take place, they shared that Jonathan's dad was supposed to fight Demogorgon instead of Steve. This change in the plot has definitely become one of the fan favorites.
"I've been rewatching from the beginning of the show," one of the fans wrote on Reddit. "I ACTUALLY forgot how much I hated Steve in the first season. He has had probably some of the best character development I have ever seen on television."
In Season 1, Steve is easy to hate. He is introduced as a douchebag jock character that we have all seen and hated in lots of movies. But his breakup with Nancy Wheeler becomes a pivotal point for the character. He helps the gang to fight off a Demogorgon, and that's when viewers start to fall in love with him. Since Season 2 Steve gradually becomes an integral part of the group, the ultimate babysitter and chauffeur, a close friend to Dustin and Robin. It is safe to say, without him Stranger Things would be totally different.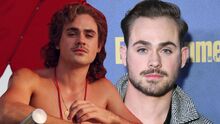 Dacre Montgomery: From Hawkins to Big Screen, Keeping Busy Post-Stranger Things
In Season 4, Steve barely escaped death twice. The end of his arc was very real but would feel too devastating to all the characters linked to Steve in one way or another and the show's fans. Besides, his death would ruin some important storylines.
"Steve is central to much of the (necessary) levity on this show. Steve/Dustin, Steve/Robin, Steve/Anybody. You lose Steve, you lose all of that potential, and you strand his scene partners in an increasingly dark show that could easily become a slog," a fan explained on Reddit.
Eddie Munson's death in the season's finale was heart-breaking but sat much better with the narrative than Steve's potential end. If the creators do decide to act on their initial intention to kill Steve, his death is happening in the series' final season which is set to release in 2024.