Why Wasn't 'The Boys' or Anthony Starr Nominated For Emmy This Year?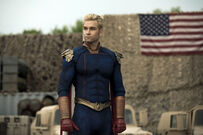 Oi, is it time for scorched earth yet?
The announcement of the Emmy nominations list is always a rejoice for some and a disappointment for others since not everyone can be included on the list for obvious reasons.
However, it did frustrate a lot of fans to not see 'The Boys ', and especially Anthony Starr, who plays Homelander on the show, among those receiving a nod from the Academy.
Starr's portrayal of a borderline insane narcissistic superhero was praised by pretty much every 'The Boys' fan, with people quickly anointing his performance as Emmy-worthy.
So naturally, not seeing Starr or anyone else from 'The Boys' on the nominations list disappointed a lot of people. But there is a simple explanation for that: the show is not yet eligible for the 2022 nominations.
However, the year 2023 will certainly welcome the show to compete against others in any Emmy category, including the acting ones, so Anthony Starr surely stands a chance of landing an Emmy for his Homelander performance.
This year, it was the 'Diabolical' animated spinoff that represents 'The Boys' at the Emmys. The show got nominated for Best Short Form Animated Series, competing against 'Star Wars: Visions', 'Love, Death + Robots', 'When Billie Met Lisa' and 'Robot Chicken'.