Will Young Avengers Be Introduced In 'Ant-Man 3'?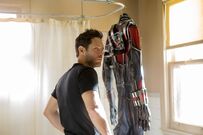 Scott Lang's new adventures were expected to be another fun solo story, but it looks like some of the upcoming events will have long-lasting consequences.
In the upcoming movie, Paul Rudd 's character will confront Kang the Conqueror himself, trying to save the entire multiverse from falling apart. It looks like Kevin Feige has finally taken notice of the lack of good villains in the 'Ant-Man' movies, and has hired Jonathan Majors for the heavy lifting after his stellar performance in the 'Loki ' series. But that's not all – insiders speculate that there's more to come, including Bill Murray playing a Skrull and a live-action MODOK appearance. But fans were excited about another long-awaited event – the supposed introduction of Young Avengers to the MCU.
This team of teenage superheroes has played a prominent role in the original Marvel Comics for quite some time, but until now it has been suspiciously absent from the MCU. According to some rumors, Scott Lang's daughter Cassie, played by Kathryn Newton, could become the founder of Young Avengers as early as this year.
However, Marvel fans are not so sure about this, not exactly claiming that Cassie will not be in the future Young Avengers, but simply refusing to believe that it could happen so soon. People speculate that a more possible turn of events is the introduction of the Fantastic Four or Iron Lad, who both have close ties to Lang in the comics – Ant-Man's daughter even dated Iron Lad in the comics at one point.
Iron Lad, who is also a member of the Young Avengers, was supposedly passed on by the MCU because of the 'Ironheart ' project in the works (you can see how that could become easily confusing). But, as some fans have pointed out, this character could fit perfectly into 'Ant-Man 3' for one important reason:
"Despite both sharing the name "Iron" those characters are quite different. Nate is a totally different character from Riri, and Iron Lad fits perfectly into a Kang story since he is literally Kang and they can explore his character through that." – /chao50.