Does MNET Still Dislike YG Despite Seemingly Mending Relationship?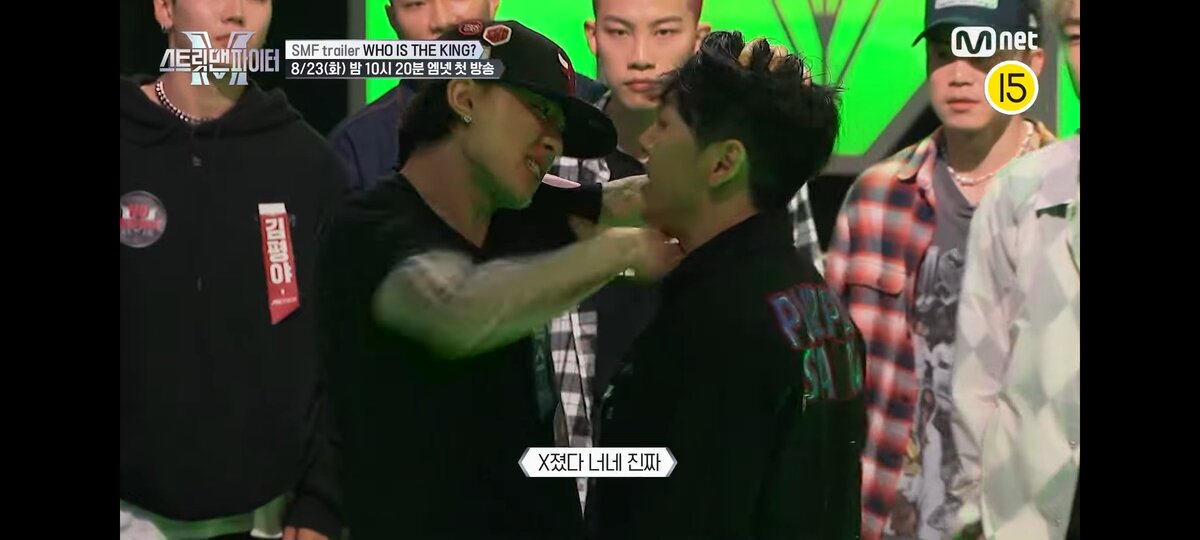 Preview for an upcoming episode of 'Street Man Fighter' made everyone furious, and there might be a valid reason for that.
The trailer for the new competition-focused show called 'Street Man Fighter' opens with a one-liner phrase said in a concerned tone: "Is this a dance or a real fight..?"
'Street Man Fighter' is a show for male dance crews related to the show with female dance crews 'Street Woman Fighter' that became the talk of the whole Korean internet community in 2021.
The suspense-filled opening of the trailer is followed by a compilation of future episodes and dance battles where it is seen that the show's producers deliberately try to raise up the tension between competing dancing teams.
But viewers became more furious after seeing the second trailer that showed the majority of the dancing crews choosing YGX as the weakest opponent, picking on the leader of the team time after time and putting 'No Respect' stickers on him and other Kwon twin. Many viewers assumed other dancers expressed understandable dislike for a dance crew that is affiliated with such a big K-pop label as YG Entertainment (and we all know that street and underground communities in Korea don't really deem K-pop idols, rappers and dancers worthy or skillful). Some people are sure that it was a deliberate decision for the same reason.
"I think it's a strategy from other teams. To demoralize YGX, they need to go after the leader. And Kwon Twins have been a backbone of this team." – @BIN_210402
However, fans couldn't help but notice that in every show produced by MNET it's almost always idols and dancers affiliated with YGE who are being victims suffering from disrespect and cunningly crafted conflicts, whether by other contestants or the producers themselves.
Anyone could easily remember the first time YG rappers made a big fuss, showing up with a bold attitude on the underground-rappers-only hip-hop survival show 'Show Me The Money'. MNET has been infamous for its 'evil editing' but at that time said 'evil editing' became more obvious, encouraging underground rappers to mock the rapping skills of iKON 's Bobby just because he was from the K-pop agency, even though he hasn't even debuted yet (Bobby, in return, stood up for himself and won the show, still holding the title as the only idol rapper to date). They also highlighted mistakes of another idol rapper, B.I, who happened to forget his lyrics as much as any other rapper on a show yet the cuts of his failures were given a bigger attention in Season 3, putting more pressure on the artist. In Season 4, a lot of contestants eagerly followed a trend and looked down on WINNER's Mino who managed to get to the finals and take the second place in the show, proving his abilities despite the drama and pressure.
Although, the conflicts between contestants and the underdog storylines in Seasons 3 and 4 were exactly the reason 'Show Me The Money' became so popular and continues to go on a Season 11 in 2022. The producers must have looked at this and thought that their strategy is undoubtedly working.
It is no secret that for a few years MNET and YG broke off their partnership, pulling the plug on all collaborations, as YG supposedly boycotted MNET because of their allegedly rigged award shows in 2015-2016. However, Korean netizens have been speculating in 2021 that YG Entertainment and MNET had reconciled, putting aside their differences, when YG idol groups have finally started appearing again on the MNET-produced shows. However, some YG fans didn't take the news positively, convinced that it was a poor trade-off for getting another music show stage to perform on.
They were enraged when iKON joined another competitive reality show for idols, 'Kingdom: Legendary War', which for some of iKON members has worryingly become the 5th or even 6th survival or competition-based show in their career. The group themselves explained that they just wanted to take any opportunity to perform. However, during the 'Kingdom' fans noticed that MNET producers have showed poor sportsmanship by, for example, constantly changing the rules of the show and 'forgetting' to notify some of the participating groups about it. In some rounds, they allowed groups to use significantly different budget for their performances, giving disadvantages to some participants, like iKON. Yet at the same time MNET managed to attract a lot of attention with the unexpected appearance of YG idols who rarely show up on TV shows.
"Congrats to anyone who's connected to YGE for being the viewmakers for MNET competitions but ends up receiving so much stress! Big shout out to iKON and YGX." – @syh2895
On 'Street Woman Fighter', female dancers have also treated YGX all-female dance crew with disregard, Lee Leejung in particular, despite her being known for creating choreographies for famous K-pop girl groups and solo artists and being idol's dance teacher. From viewers' observations, MNET's show deliberately created and edited the impression of intense conflicts between the participating teams, only to reveal at the end that the contestants were choosing their opponents in battles solely out of respect. Such narration made fans criticize MNET for creating another conflict just for views and clicks. It seems like the same will happen in 'Street Man Fighter', as well.
The fans of YGX dance team and Kwon twins, one of which is a leader of the crew, are convinced that the dancers and their team don't need to prove anything to any of the other teams that will appear on the competition show, since their huge experience speaks for itself. Kwon Young Deuk (also known as Deukie) and Kwon Young Don (also known as Dony) have already performed at concerts as dancers together with such famous K-pop artists as Big Bang, 2ne1, Blackpink etc.
They even have their own fandom, earned fashion brand endorsements, and some of their fancams gain more views than debuted K-pop idols' fancams. Even though they don't have much experience outside of YG, fans are confident that they could prove wrong everyone who looks down on them. On the other hand, some people are sure that performing with celebrities and being popular isn't proof of a good technique that other dance crews could have mastered outside of idols' agencies.
Fans continue to express their dissatisfaction and claim that MNET loves drama too much, to the point that their producers could easily throw popular people under the bus to get as many views as possible. They worry about Kwon twins and the whole YGX dance crew's well-being after the leader of the team was shown crying from disrespect and colossal pressure as he kept seemingly losing in battles against other dance teams who only aimed at challenging him, while his twin brother cried because of unfairness.
"YGX MALE CREW members were all just crying at the back because they cannot do anything but watch DEUKIE getting teared into pieces… kinda have a feeling this is another strategy of the other crews to get air time because Kwon Twins have their own fanbase prior to joining…" – @jungiesworld
Despite everything shown in the compilation released by MNET, some of the fans showed a rather calm attitude towards the trailers, being sure that the real story behind those scenes and relationships between dancers aren't as bad as they were 'evilly edited' in the videos.
"We already know what happened after SWF and Be Mbitious, a lot of the contestants are now friends/good acquaintances. We all know that MNet loves to create drama on all of it shows, the SMF contestants are now following each other on social media. Some of them are friends/acquaintances even before the show. Let's keep this in mind and remain respectful to all members of each crews. I know that some of y'all feels sad over the trailer, but everything's going to be fine in the end." – @be_mbitious
In any case, 'Street Man Fighter' is promising to be a high-tension and intriguing show, so if you are here for the drama, and fierce competition between muscular men who can do unimaginable moves and acrobatics sounds delightful to your ears, this one is a must-watch. The street dance survival series will premiere on August 16.