Harry Potter and the Arrogant Fool: How Lucius Malfoy Destroyed All His Ancestors Built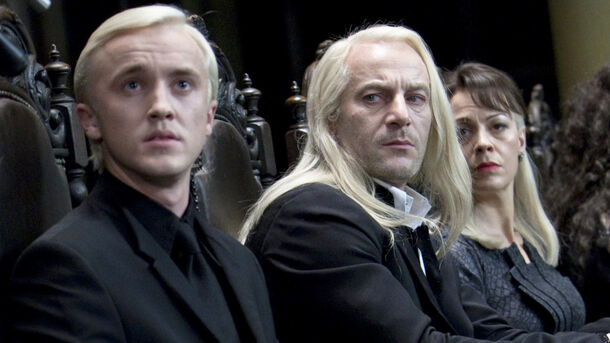 For all his pride and arrogance, Lucius Malfoy managed to not only set up himself and his family but also destroy a major part of his clan's long legacy on his own.
Summary:
The Malfoys rose to power and wealth by serving the Muggle royalty, and their later wizarding superiority complex directly contradicted their origins.
Lucius Malfoy inherited a vast fortune and immense political power, but several poor decisions he'd made led the Malfoys to their downfall.
Associating with the Dark Lord and letting him down repeatedly turned the once-powerful clan into a shunned and hated family of traitors for everyone.
When we first meet Lucius Malfoy in Harry Potter and the Chamber of Secrets, he's at his prime both financially and politically: arrogant and selfish, Malfoy Sr. has eyes everywhere and can bribe or manipulate his way through the Ministry, Hogwarts's board of directors, and virtually everything else. This changes rather quickly, though.
In the same book and movie, Lucius Malfoy sets up his own and his family's downfall and destruction of the long-lived Malfoy legacy. A single mistake motivated by his pathetic vindictiveness and hubris turns out to be fatal for all the Malfoys.
The Malfoys: Wealth, Status, and Hypocrisy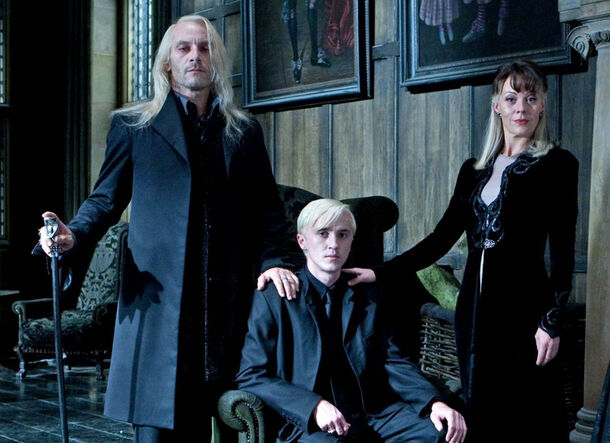 Despite everything the Malfoys claimed in the 20th century, this wizarding family only came to despise Muggles very recently; in fact, until the International Statute of Secrecy was established in 1692, the Malfoys worked for the British royalty as their personal dark mages and accumulated their wealth and status that way for centuries.
Even Malfoy Manor, the mansion that housed generations of Malfoys itself, was Armand Malfoy's award from William the Conqueror for help in the 1066 Norman Conquest. Since then, the Malfoys stayed close to the Muggle royal family and even tried to marry into it to no avail. Still, they remained their lap wizards, so to speak.
Not exactly the Muggle-phobic behavior we saw from them in the series, was it?
Lucius Malfoy: Education and Corruption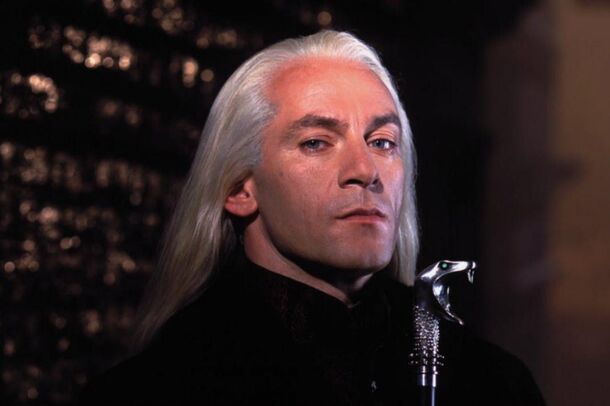 Thanks to his family's extensive Muggle-fueled heritage, Lucius Malfoy was born into an immensely rich and powerful family and was brought up accordingly. The anti-Muggle sentiments were already in full force among the wizarding aristocracy, so Lucius was taught two things: he was the best, and Muggles were the worst.
In Hogwarts, young Lucius was a brilliant student: he was a prefect and a member of the exclusive Slug Club. Arrogant and full of himself, the Malfoy heir took it all for granted, and while still in school, he joined the Death Eaters, charmed by Lord Voldemort's promises of even more power…and Muggle extermination.
And thus, the Malfoy downfall began. Kind of.
Lucius Malfoy: Beginning of the End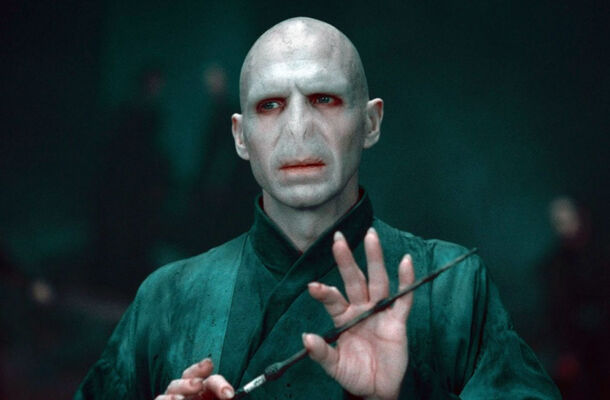 For many years, Lucius Malfoy's connections and money were incredibly useful for Lord Voldemort. Lucius was pretty instrumental in the Dark Lord's schemes in the Ministry of Magic, and later, he was even given a special job. In Malfoy Manor, he was to hide and store a diary — Voldemort's Horcrux, as we later learn.
However, Lucius Malfoy failed his overlord.
After Voldemort's fall, Malfoy Sr. lied his way to freedom and pretended to have been controlled with the Imperius Curse. Convinced that the Dark Lord was no more, Lucius Malfoy was more than happy to live his posh influential life, and he didn't care about the diary. He tried to set up Ginny Weasley with it, leading to its destruction.
Lucius Malfoy: Dark Lord's Wrath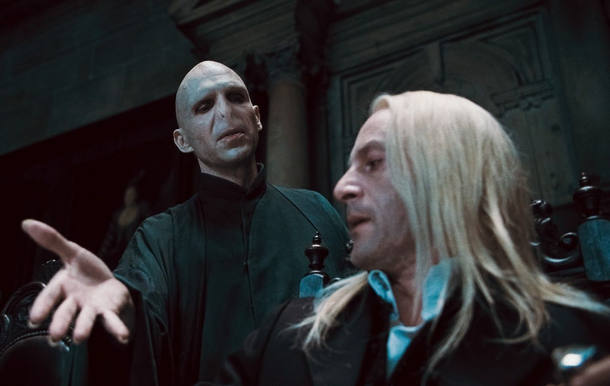 When Lord Voldemort returned, he had all the reasons to be furious at Lucius: not only did he fail to guard his Lord's greatest possession, but he got it destroyed. Also, it didn't escape Voldemort's notice that Malfoy Sr. did his best to shun him and made no attempts at trying to bring his former overlord back to life. He was…upset.
The Mafoys' position was far worse this time; then, Lucius messed up again.
Instead of recovering the prophecy Lord Voldemort sent him for, Lucius Malfoy got it destroyed, as well. All the Mallfoys learned the Dark Lord's wrath: prisoners in their own house, they were abused and tortured, used for whatever came to Voldemort's mind. That, of course, included his son Draco whose fate was Lucius's punishment.
The Malfoys: Great Family in Shambles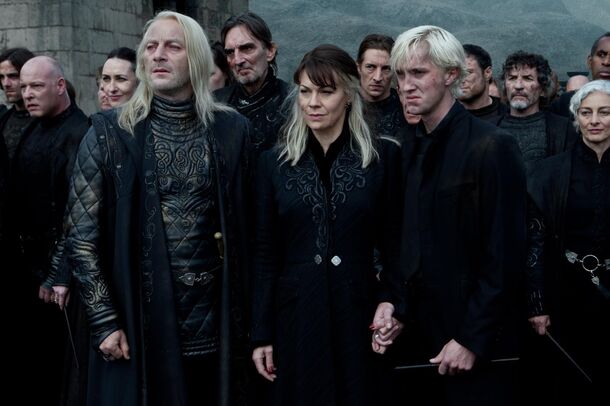 With the way the Malfoys were treated by Lord Voldemort during his second reign, their position was changed forever. Other Dark aristocrats didn't want to associate with them; the rest of the Wizarding World even more so since the family's allegiance to the Dark Lord became apparent — everyone knew they were fallen Death Eaters.
When the war was over, the Malfoys ran and, admittedly, spent years in hiding. Their fortune was likely arrested and their legacy destroyed; years later, when Harry saw Draco Malfoy taking his son to Hogwarts Express, he didn't look particularly excited about the way his life had turned out. The rich and influential Malfoys were no more.
Centuries of wealth and power were destroyed by one arrogant fool, Lucius Malfoy.