Harry Potter Set Was a Total Mess After Emma Watson and Daniel Radcliffe Kissed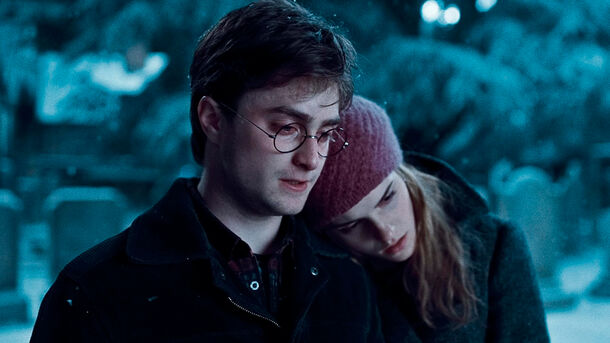 The kiss between Harry and Hermione in The Deathly Hallows was the most uncomfortable experience the younger cast had on the set of the franchise.
It's no secret that throughout the years they spent together on the set of the Harry Potter movies, the younger cast members virtually became a family. Having grown up together, Radcliffe, Watson, and Grint treated each other like siblings even, and while it was pretty OK for the most part, things started getting weird in the later entries.
In Harry Potter and the Deathly Hallows, both Harry and Ron share kisses with Hermione: the former in an illusion cast by one of the Horcruxes, and the latter for real. As you might guess, it was an incredibly uncomfortable revelation for the young actors as they'd grown to treat each other like siblings.
When it came to the filming of Daniel and Emma's kiss, they were both pretty tense about it.
However, the kiss itself wasn't the worst part as it turned out: the director decided to tell them that they had to be topless and covered in silver paint for the shoot, too, only one day before they began filming this horrifying scene!
Emma Watson, despite anything, made quite a bold choice. Since their kiss was supposed to make Ron as jealous and angry as possible, she went all in and brought all her passion to the table. It surely triggered Ron — but off-screen, there was only Rupert Grint laughing so hard he was eventually kicked off the set.
"I'm proud of it, and considering how bloody awkward it was, I'm really impressed that we managed to make it look anything other than awkward. Because Dan and I are like brother and sister, so it was tough making it look passionate, believe me," Watson shared with Today.
While Harry was one and done after that scene, the Hermione actress wasn't off the hook just yet: later in the movie, she had to kiss Grint, too. And that time, it was Daniel's turn to roll on the floor — and, just like his friend, he had to be physically removed from the set until Ron and Hermione's kissing scene was done.
These definitely were the weirdest days for the three core actors, but at least they had fun in between all the tension and anxiety, right?
Source: Today