The American action crime drama, Walker, follows the life and adventures of Cordell Walker.
As the story of the Texas ranger unfolded in seasons 1 and 2, audiences quickly noticed Jared Padalecki's crown tattoo appearing in every Walker episode. Usually, the tattoos are covered with makeup, as it is uncommon for an actor's tattoos to be shown on TV; but the comments on social media prove that the audiences love it. Let's dig into the details of why the crown makes an appearance on the show.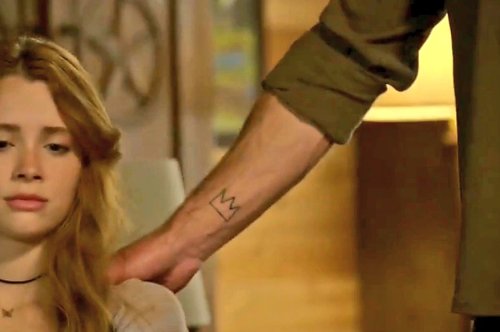 But first, a little backstory; the Supernatural star got this tattoo along with Jeffery Dean Morgan and Jensen Ackles at Morgan's wedding. The word is that there was a tattoo artist at the reception with a small selection of designs, and in a spur-of-the-moment, all three of them got a similar design – the Jean-Michel Basquiat crown. In Ackles's own words, "we're the three kings", whereas it reminded Padalecki of Shakespeare "heavy is the head that wears the crown." However, Padalecki admits that the tattoo can have "a lot of different cool meanings." So, although the supernatural trio got the tattoo to honour the show, what is the relevance of the tattoo to the Walker series?
Jean-Michel's crown motif has three peaks resembling a 'W.' Quiet, possibly the letter could stand for the 'w' in 'Walker.' Cordell Walker has a strong sense of duty, as he enlisted in the marine corps after 9/11 and continued the trend by becoming a Texas Ranger. He is not only intelligent and witty but also dedicated to his work and family. He loves his wife deeply, and this love gives him a sense of purpose and direction.
However, following his wife's death, Walker struggles to come to terms with reality. He is also repeatedly tested by his daughter Stella, who can't forgive him for leaving. The Basquiat tattoo symbolizes the turbulent times in the life of Walker. The viewers could also interpret the tattoo's meaning by analyzing the real meaning of the crown symbol that has been a part of Basquiat's art since his early days.
Although it is a simple design, it makes a powerful statement and leaves a strong imprint. Walker is sassy and funny, but he maintains silence over his personal life. The scarcity of words to fully express himself has instead been fulfilled by the imagery of Basquiat's crown. The crown could represent his inner feelings of lingering self-doubt and the struggle to find inner peace after his wife's death. It will be interesting to see how Walker overcomes these challenges and lets go of the past to start afresh.
Walker Season 3 premieres on October 6th.