Here's Why Andor Got Delayed by Disney+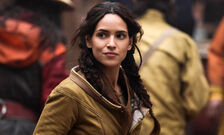 While releasing the preview of the new series, 'Andor', Disney also surprisingly revealed a new date for the show's debut on its streaming service.
Fans have been waiting for August 31, which was the initial date for the series to debut. But unfortunately, Disney announced that September 21 is the new date for the first three episodes of the series premiere on Disney+.
While Disney did not state what caused the short postponement, the reason for this action, however, is to allow the debut of three episodes on Disney+, unlike the initial plan of releasing just two episodes.
'Andor ' will not only become the Star Wars series with the longest episode on Disney+, but it will also be the first time that the fans of the streaming platform will witness a live-action debut that is more than 2 episodes in a row. The first live-action debut with more than one episode was 'Obi-Wan-Kenobi' starring Ewan McGregor, which premiered about three months ago.
Also, another reason why Disney delayed the series might not be unconnected to the activities of its competitors. Firstly, Disney+ will set a new milestone with a longer debut, unlike its previous weekly strategy.
Moreover, if the series had been released on the initial date, it would be competing with other anticipated popular series that were released almost simultaneously. For instance, it would be competing with 'House of the Dragon ', which was released on August 21, and 'The Lord of the Rings: The Rings of Power', which is scheduled for release on September 2 on Amazon Prime Video.
Before the postponement, August 2022 would have been the first month where both Star Wars and Marvel series would debut on Disney+. This is because 'She-Hulk ' was scheduled to debut on August 17.
The details of the 'Andor' plot are still relatively unknown; however, fans can look forward to the revelation about the darker side of the Star Wars universe. It depicts the life of one of the rebels, Cassian Andor (Diego Luna), who was responsible for the theft of Death Star's plans.
Though this isn't the first time that a change would be announced in the release schedule, the reasons why Disney decided to release 'Andor' new episodes on Wednesdays instead of the usual Fridays remain unknown. Hopefully, Disney will maintain the new release date and meet fans' expectations by September 21.