Justice League Curse Has Been Haunting DC Projects For Decades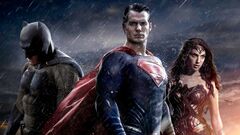 The DCEU Justice League is dead, continuing the curse of the famous super team in live action.
James Gunn and Peter Safran – new co-CEOs of DC Studios – have canceled Man of Steel 2, Wonder Woman 3, taken Ben Affleck out of planned cameos, and taken Jason Momoa away from the Aquaman role. The last blow was the end of Henry Cavill as Superman, effectively ending the Snyderverse.
Gunn and Safran promised to "focus on the future," and their first step in that was stripping down what they've already created. And just like that, another live-action Justice League has been scrapped and its actors left in limbo.
The "live-action Justice League curse" has been haunting DC projects for decades.
In 1997, CBS aired an unsuccessful pilot (now dubbed a TV movie) called the Justice League of America. It featured a new character, Tori Olafsdotter, who becomes gifted with power and joins the JLA. The pilot is interjected with interviews of the Justice League, talking about what it's like as a hero.
Critics and fans hated the pilot and all plans for the show ended. It had plot holes, bad effects, and costumes that looked like a college student's film project. The heroes also severely diverged from their comic counterparts, with Mark Wait (JLA comic writer) saying it was "80 minutes of my life I'll never get back." It could have been a breaking out party for several actors, but it never came to light.
Justice League: Mortal never even made it to production. It was set to be made in 2009 and directed by Mad Max legend George Miller. Armie Hammer, who's been a curse of his own recently, was cast as Batman.
Warner Bros. placed the film on hold in 2008, feeling the script needed fixes. The Writers Guild of America strike in 2007-08 made that impossible, and the options lapsed for the cast. Miller wanted to film in his home country of Australia, but the country denied a 40% tax rebate, saying they didn't have enough Aussie actors. WB moved the set to Canada and their summer 2009 release date quickly became impossible.
When Christopher Nolan 's The Dark Knight became a massive hit, WB shifted their plans for the DC brand of films and scrapped Miller's movie.
The Arrowverse's set of inter-connected, multiversal DC series had its high points, but it was ultimately canceled before all plans came to fruition.
With the end of the Snyderverse, the young JLA in Smallville is the only time the Justice League met its planned potential.
Gunn and Safran have their plan for the future, but it will still be years before we see if they'll break the live-action Justice League curse.