One Maverick Scene Navy Pilot Flying Tom Cruise Said He'd Never Do Again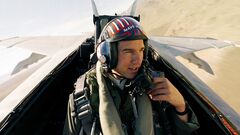 When a professional Navy pilot tells you he'll never do a scene again, it can only mean one thing – the scene is outrageously dangerous, even by his standards.
That is exactly what the director of Top Gun: Maverick Joseph Kosinski has heard from the ace who took part in the shooting of his film.
"It's all in-camera, it's Tom Cruise at 550 knots, going 30 feet above ground through the Toiyabe [Canyon] low-level training grounds. That's a real Top Gun training thing, but they never fly as low as he does. After they landed, Walleye came up to me and said, 'Did you get it?' I said, 'Yeah, I think we did.' He said, 'Good, because I'm never doing that again,'" Kosinski recalled in an exclusive interview with Empire, saying the scene was the most extreme in terms of practicality.
While for Navy ace pilot Frank 'Walleye' Weisser it was a scene he would never do again, for Tom Crusie it was fun. The filmmakers joked that Cruise would have done it a hundred times more because he was "having the time of his life".
"I smile because when I watch that sequence, he's wincing through the Gs, but I know under the mask he's smiling for most of it," Kosinski told Empire.
Top Gun: Maverick is a must for any aviation geek. It features some of the best fighter jet and G-force action sequences you will ever see in a film.
Before shooting began, Cruise told Paramount that it was going to be very hard and that nobody would ever do something like that again. No wonder the Top Gun sequel has grossed more than $1.4 billion worldwide. It earned Tom Cruise $100 million and became the actor's and 2022's highest grossing film.
While the film has been praised for its unprecedented action scenes and for raising the bar, not everyone is happy. Some critics say that the plot of the sequel is unrealistic and that it would have been more realistic if "the UN had attacked a nuclear power."
Others argue that while it's nice, as it has wonderful action scenes and a certain nostalgia, the film is still a bit overrated. "It seems like it's more of a tribute to a beloved classic than a film in the upper echelon of ratings," said one commenter on Reddit.
Well, one of the Top Gun fans summed it all up perfectly: unless a film is based on a true story, most plots are unrealistic.