Pedro Almodovar's Nod to Zendaya Got People Talking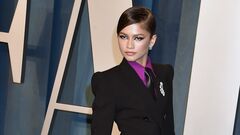 Oscars is definitely a place to form those useful social connections. But it seems that there was one particular person who got everyone's attention – and no, we're not talking about Will Smith.
Iconic Spanish director Pedro Almodovar has shared with IndieWire some of his memories from the Oscars, and it looks like one of his favorite memories was meeting Zendaya.
Here's how the 'Parallel Mothers' director recalls the meeting:
"I come across Zendaya and I behave like any fan. I ask her for a photo and am surprised at how tall and beautiful she is. I am used to seeing her with her neglected complexion in "Euphoria," and I'm surprised by the splendor of the actress's natural beauty. I tell her, and it's true, that I'm longing to see her in films with real characters where she can develop what she has already demonstrated, that she is a great actress, an adult actress. As proof, you have her performance in the very uneven "Malcolm and Marie." (I don't think she understands a single word I say to her.)"
As much as Almodovar's enchantment with Zendaya is understandable, fans did not just see a nod to the actress in his diary – they saw a hint.
Hands up if you want to see Zendaya in an upcoming movie by Pedro Almodovar!
Fan-cast: Zendaya and Anya-Taylor Joy in an Almodovar-directed Spanish drama.
Almodovar's recent film 'The Parallel Mothers' had the director's muse Penelope Cruz nominated for Best Actress, with Alberto Iglesias competing for Best Original Score.