People Fancast Sadie Sink as This 'Harry Potter' Character... And They Got a Point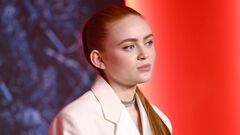 We solemnly swear we're up to no good.
After her outstanding performance in 'Dear Billy' – episode 4 of Stranger Things season 4 – Sadie Sink has become an ultimate fan favorite, with people pushing her for an Emmy award. Aside from that, however, Sink is now being fancast by Harry Potter fans… as young Lily Evans, the future wife of James Potter, Harry's father.
With Sink's signature red hair and appropriate age for the character, she could indeed make a perfect Lily in, say, a Marauders spin-off, should one be announced?..
Sadie Sink as young Lily Evans is perfect and we should talk about it more, – @whamwiIson.
Sink has been a fancast as Lily Potter for quite some time now, but with the premiere of 'Stranger Things' season 4, many fans have also suggested that she could be a perfect Ginny Weasley as well.
Personality-wise she matches Ginny much more. Pretty sure Bonnie would've matched Ginny personality-wise a lot too if the directors/writers actually let her. She still did a great job though! – /waterthecan.
However, given that the role has been already portrayed by Bonnie Wrights, and the Harry Potter reboot is unlikely to happen in the coming years, it looks like the role of Lily Evans seems more suitable for Sink.
In fact, other 'Stranger Things' cast members have been fancast in the Hogwarts universe as well. For instance, Finn Wolfhard also drew a lot of attention from Harry Potter fans: some see him as James Potter, while others argue that he is a perfect choice to portray young Severus Snape.
The Marauders spin-off is a long-anticipated thing among the Harry Potter fandom, even though there have been little hints pointing at the possibility of the project being announced.
Well, should such a thing happen, Sadie Sink is right there.