PH-1 Leaving Gifts for Fans in His Albums Is Both Adorable and Hilarious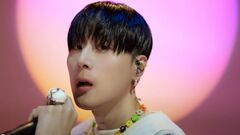 However, some of his random gifts seem borderline weird.
Nowadays, the K-pop industry knows very well how to make fans spend an insane amount of money on music albums. It's a whole part of K-pop fandom culture with unboxing videos, trading idols' photocards, and participating in various raffles and giveaways.
The key to a successful bulk buying by fandoms is providing a lot of random content included in the albums. Besides trying to win tickets to fanmeetings and fancalls by ordering more albums, fans hunt after the cards, polaroids, and other possible variations of merch that involve their bias.
Korean-American rapper Park Junwon, also known as pH-1, went even further and decided to have fun by creating special giveaways for his fandom. On his Instagram stories, Park Junwon started posting photos, showing himself adding random gifts in his solo albums before the official release.
As long as pH-1 duct taped polaroids of him or his dog Holly onto folded posters and gave his autographs, fans reacted like it was the sweetest thing ever and prayed to get those exclusive editions of the album.
However, they couldn't help but laugh seeing other things pH-1 decided to give out. Various special gifts included an origami paper crane, Park Junwon's ID picture, a strand of the artist's hair, and even his dog's fur. Commenting on the last gift, the rapper honestly admitted that he wasn't sure whether it was a gift or a punishment.
Junwon also gave away his own necklace and ring, sloppily drew out his hand on a photo, and "invisibly" signed the page. For one lucky customer, the artist even left a 10 000 won bill (approximately $7) inside a folded poster.
Indeed, the rapper's imagination runs endlessly. Fans wish each other luck to get the precious gifts and comfort in advance for those who will get a 'crazy' edition of the album.
pH-1's second album is called But For Now Leave Me Alone and it will be released on September 28.