Spider-Man Turned James Cameron Into a Superhero Cynic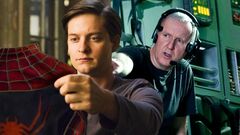 Cameron could have given us Mary Jane Watson's sex scene, but alas.
Decades ago, acclaimed director James Cameron – who created two of the three highest-grossing films in history – was attached to the long-awaited theatrical take on the Amazing Spider-Man. His failure to win the project left him soured on superhero movies for good.
Marvel Comics had been in negotiations with studios so long ago that the original screenplay (written by the comic book character's creator Stan Lee) featured Cold War themes. Joseph Zito was originally planned to direct, but after the budget was cut following the failure of a few other superhero films, he stepped down.
Cameron became the favorite to write and direct the film by the 1990s, given a $50 million budget with theatrical rights given to Carolco Pictures. Production halted when legal issues surrounding rights arose, then Cameron had to step down when he began work on the Titanic.
Sony Pictures, who ended up producing the trilogy, eventually bought the rights. They were given all previous scripts, including the one written by Cameron. As soon as they read it, they quickly passed.
His original script is available for public reading, though it's not an easy read.
It featured two f-bombs and a sex scene with Mary Jane Watson in which Spider-Man seduces her with spider mating rituals – not exactly the family-friendly web-slinger fans had grown to love. The dark and profane version of superheroes will become more popular only a few decades later.
After the bizarre script was rejected, Cameron hasn't been attached to any superhero projects since.
Currently promoting his long-awaited sequel to the highest-grossing film of all time (2009's Avatar), he recently answered questions regarding his desire to pursue superhero movies.
The Marvel Cinematic Universe has attracted actors and filmmakers from several different genres, but several "old school" filmmakers like Martin Scorsese and Quentin Tarantino have pushed back. Scorsese even said they are closer to theme parks than cinema.
Cameron said that he wouldn't "diss" superhero movies, but he isn't interested in working on them anymore. He did have a personal interest in Spider-Man, leading to his original potential involvement. He said that it was unique to the character – a "personal love" of Spider-Man.
Sam Raimi eventually directed the first theatrical Spider-Man trilogy, films that continue to be beloved by fans. They were part of the earliest movement of superhero films – including the X-Men and Christopher Nolan 's Dark Knight trilogy – that popularized the genre into the most profitable in Hollywood.
While he made evident he holds no hard feelings toward Marvel or superhero films, it's clear his failure to create one pushed him away from the genre.