Steampunk 101: 10 Genre Gems You Can Watch on Netflix, Max & Prime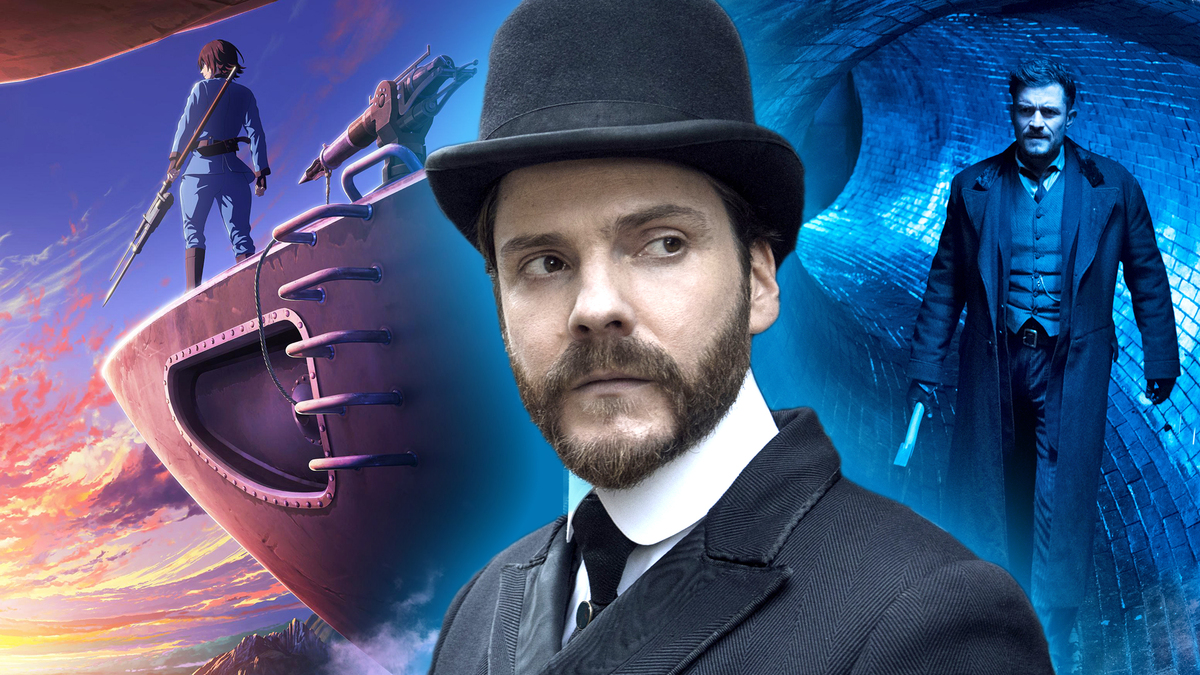 Start your engines, we have some great steampunk stuff to watch!
No matter if you're completely new to the world of engines, top hats and gears or a true genre connoisseur at this point, you're going to love this list. These movies and shows from Netflix, Prime and HBO Max do not only provide amazing immersion into the steampunk worlds but are also a mix of various other genres! Some of them are classics already, and some are true gems that are undeservedly overlooked.
Here goes.
1. Disenchantment
How about this one for starters? Some would argue this Netflix animated series is not exactly a steampunk one, but one may forget that it has a full-blown medieval kingdom of Steamland where some of the episodes take place. Steamland is peak tech development the show's setting can offer, and we dare say it blends in with the rest of Disenchantment's twisted knights-and-princesses world perfectly.
2. Carnival Row
Switch to Prime Video to check out this Victorian era-inspired fantasy world where humans live side by side with fairies while also slowly finding technological advancements handy… when they feel like attacking the fairy people. Orlando Bloom and Cara Delevingne are the main stars, and if that's not already enough, we don't know what is.
Back to Netflix and its undisputed steampunk classic – the animated series Arcane, set in the world explored by fans of the iconic videogame League of Legends. The 2021 series enjoys love from both critics and fans, and even if you didn't really like steampunk vibes before, you'll find yourself obsessed after watching Arcane, with its unique blend of technology and magic. Oh yeah, and prepare for the heartbreak in the season 1 finale!
4. Howl's Moving Castle
Now to the true classics. On Max, you can watch Howl's Moving Castle – a Studio Ghibli gem that mixes Hayao Miyazaki's signature style with the early 20th century technology and, of course, magic. Just one glance at the film's poster teases you with the perfect steampunk vibe.
5. Sky Captain and the World of Tomorrow
This is not just steampunk, this is what one may know as "dieselpunk." The 2004 sci-fi flick stars Jude Law, Gwyneth Paltrow, and Angelina Jolie (which is in itself already exciting enough to give it a watch). Aside from the stellar cast, the movie has giant flying robots attacking New York City. It was also one of the first Hollywood movies to be created with almost nothing but digital tools – except for the main actors, of course.
6. The Alienist
It's Netflix once again, and The Alienist is not just a steampunk piece – it is also a period drama! In this series based on the novel by Caleb Carr, you will join a team of investigators who are searching for a serial killer in 1896 NYC.
7. Full Metal Alchemist
How could we forget about this one, right? Some people may argue that the only thing truly worth watching is the original anime titled Full Metal Alchemist, but if you're okay with the Netflix attempts to adapt iconic Japanese animated series, then give this 2017 adaptation a chance. The steampunk series will introduce you to a world of technology that walks alongside alchemy – a science bordering with magic.
8. Drifting Dragons
House of the Dragon, you say? How about a Netflix steampunk series about an airship crew that has to hunt dragons for food? These folks would probably shoot any Targaryen down in case they even tried to approach. However, this series is also an adaptation of manga, so if you're an avid fan of the original, take it with a pinch of salt.
9. The Aeronauts
This Prime Video movie starring Eddie Redmayne and Felicity Jones will take you on a steampunk journey that doesn't even seem too fantastic. The actors portray two balloonists who start off by trying to make discoveries in a gas balloon in the 19th century, but end up fighting for their lives.
10. Shadow and Bone
Loved Leigh Bardugo's Grisha trilogy? Well, this is yet another example of Netflix making a good adaptation. In a new addition to the diverse steampunk genre palette, this one is "Tsarpunk" – basically just steampunk that is heavily inspired by the aesthetics and vibe of early 19th century Russia. By the way, it has Ben Barnes as its main star. Just saying.