Don't get your hopes up, Stiles Stilinski is not in the movie – but at least there's something reminding us about him, cause there's absolutely no way you can make a Teen Wolf movie and leave Stiles out of it completely.
Dylan O'Brien himself was pretty clear in the past about not returning to Teen Wolf: The Movie, so fans aren't even hoping for some kind of cameo at this point. The news about the actor's absence were a bitter pill to swallow, but at least there's some sweet way for the movie creators to still include Stiles to some extent.
We're talking about one thing perhaps most precious to Stilinski Jr., and it's his Jeep, which went through so much right alongside Stiles that Dylan O'Brien could bring himself to part with it after Teen Wolf season 6 shooting wrapped up.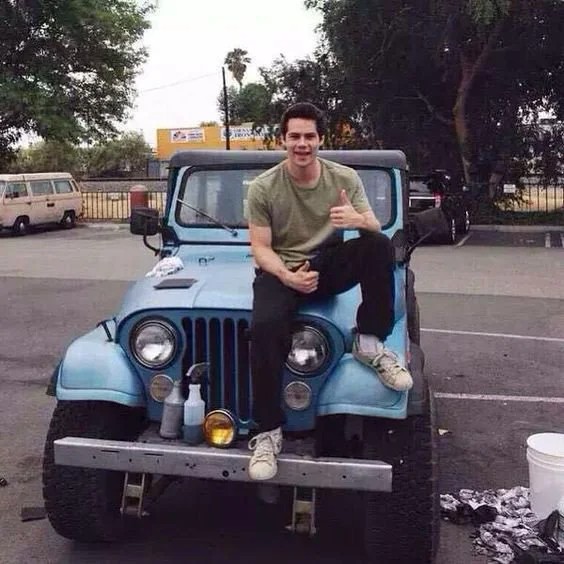 The actor went out of his way to actually keep the vehicle, and as of now Dylan O'Brien is still a proud owner of one little blue Roscoe (yes, Stiles loved it so much he actually gave 1980 Jeep CJ5 a name).
"I have the Jeep," O'Brien admitted while talking to his castmates during Teen Wolf reunion back in 2020. "It was important for me to take a lot of things. Everyone who knows me closely knows that my heart lies and dies with Teen Wolf. There was no way I was not taking that Jeep."
And now, Stiles' Jeep will be back in Teen Wolf, even though its owner will not be in the movie. Dylan O'Brien himself said as much during recent interview with Extra's Adam Weissler:
"I'm not in the movie. My car is. It's like 'come and pick up the car from my drive to use it,' which everyone thinks is really funny."
Although seeing Stiles' Jeep without its enthusiastic owner on screen is somewhat bittersweet for Dylan O'Brien fans, it's still at least something to hold on to. It's far worse than that for Arden Cho's fans: they won't get to see their fav on screen at all because of an unfortunate salary dispute. Arden, though, is busy with other projects: after winning our hearts all over again in Netflix's latest, Partner Track, she'll be back soon in Avatar: The Last Airbender live-action series starring as June. As for Teen Wolf: The Movie, we're still waiting on official release date confirmation from Jeff Davis, who is set to appear on New York Comic Con main stage in a week, hopefully with some good news for Teen Wolf fans.