'The Boys' Mocked Gal Gadot's Pandemic Video in 'Herogasm' – With a Little Help From Mila Kunis and Ashton Kutcher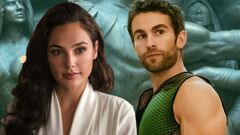 This show is relentless when it comes to mocking superheroes – and Wonder Woman is no exception.
Warning: the following article contains spoilers for 'The Boys ' episode 6
We all remember an awkward attempt by Gal Gadot to improve everyone's morale during the coronavirus pandemic when she and some of her celebrity friends sang a cover of 'Imagine' by John Lennon. No matter how nice the intentions were, Gadot was widely criticized for the "cringy" attempt to cheer people up.
But the video itself has gone down in history, with 'The Boys' riding the wave and mocking Gadot's initiative from the very first seconds of 'Herogasm', an episode focused around a superhero orgy.
The episode starts off with The Deep, looking stiffly concerned, delivers a "heartfelt" message to those affected by the recent horrible events that took place in the show… and yes, he starts singing 'Imagine', with the rest of the Vought superhero crew jumping in.
The move by 'The Boys' to take a dig at Gal Gadot's cringeworthy video left fans in stitches. It seems that this show will mock anything, and just make it twice as funny.
The funniest thing about 'The Boys' take on Gadot's video is that it did not shy away from some cameos – for instance, Mila Kunis and Ashton Kutcher are proudly the worst singers in the clip started by The Deep.
'The Boys' creators are not the only ones to have parodied Gadot's clip. Comedian Zack Fox offered his own take at it, and experimental musician Lingua Ignota remixed the cover in various musical states.
Well, now they have a plus one. You can go and see for yourself right now, as 'Herogasm' is currently streaming on Prime Video.