'The Crow' Reboot: Fans Are Not Sure A New Version Will "Pull it Off"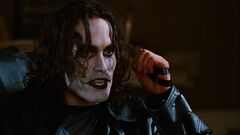 After multiple attempts to revive 'The Crow' franchise Rupert Sanders ('Ghost in the Shell', 'Snow White and the Huntsman') is set to direct a new version, and this time it looks like it is really going to happen.
Moreover, Sanders' new adaptation of the cult comic has already come up with the main cast. Bill Skarsgard (Pennywise the Clown from the recent "It" adaption) and Grammy-nominated singer-songwriter FKA Twigs will star in the leading roles.
Most fans are not sure that even with quite an interesting cast the creators of the new adaptation will be able to "pull it off" and hope that they won't "butcher their favorite''. Some even think that 'The Crow' doesn't need to be revived at all.
Lots of people are bored with Hollywood's constant attempts at rebooting old stories.
Some fans think that Bill Skarsgard is not suited for the role and prefer Jason Momoa, who was considered several years ago:
"I really like what Bill did so far as an actor. But he's truly not Eric Draven material. He doesn't have the face or body for that kind of character. He's weird and it doesn't fit. He could play the role of Skank or Fanboy but absolutely not Eric Draven. If you ask me, Jason Momoa was a better candidate for that role, despite the fact that he is too much muscular but yet had the face and hair".
Others are in doubts about the director and his somewhat questionable track record:
But, as the saying goes, hope is a hard habit to break: