'The Umbrella Academy' Creator Explains Season 3 Ben Post-Credit Scene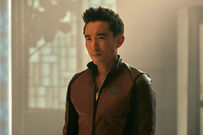 Season 3 of 'The Umbrella Academy ' has ended – traditionally for the show – with a cliffhanger. However, even after the cliffhanger, it had a little surprise for fans: a post-credit scene that featured Ben Hargreeves, very much alive… in the Korean subway, reading a book about pottery.
This was weird, but it fell in line with the lore of the show, even though fans still have no idea just what happened in that post-credit. Luckily, showrunner Steve Blackman was there to offer an explanation.
"Let's be clear — that is Sparrow Ben," he told Tudum. "The question you should really be asking yourself is what the f--k is he doing on a Korean subway train reading a book about pottery? Odd, right? Of course, it is! This is the Umbrella Academy. As every good Umbrella fan knows, no moment in the show exists in isolation. Everything we see has meaning. And this moment is no exception."
He went on to add that "Ben has a reason to be there", but in order to know that reason, fans will have to wait until the premiere of season 4.
With Ben Hargreeves, who is portrayed in the show by Justin H Min, things are never easy. In fact, his character has long been dead, and Min played his ghost who would follow Robert Sheehan's Klaus pretty much everywhere due to the latter's ability to communicate with the dead.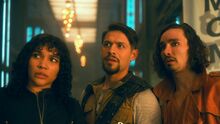 Reddit Theory Suggests At Least One Major Character Death in 'The Umbrella Academy' Season 4
However, season 3 had the entire Umbrella Academy travelling between dimensions and ending up in a world where they are substituted by the Sparrow Academy, with every member of the family being different – except for Ben, who was alive and well in that dimension, unlike his Umbrella version.
In the end of season 3, Sparrow Ben appears to be joining forces with his Umbrella siblings – not least due to his own Sparrow Academy being dead or missing. Still, they part ways after finding out they have switched dimensions again, and in this new world, every sibling seems to be on their own.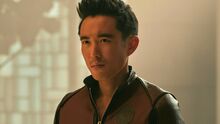 Ben-Related Continuity Error In 'The Umbrella Academy' Season 3 Will Make You Roll Your Eyes
Just how did that put Ben Hargreeves in Korea (and why pottery?..), we will have to find out in the fourth and final season of 'The Umbrella Academy'. The premiere is expected in 2023, although a date is yet to be scheduled.