Do we have a death foreshadowing here?
Episode 18 of The Walking Dead's eleventh season has provided fans with what could be a heart-wrenching foreshadowing or just a random parallel — depending on how dramatic you are ready to be about things.
Eagle-eyed fans have spotted a striking resemblance between the scene with Negan and his new wife as they go through a sonogram procedure, and a similar scene with Glenn and Maggie, with the latter heading into the spinoff, and Glenn being long dead.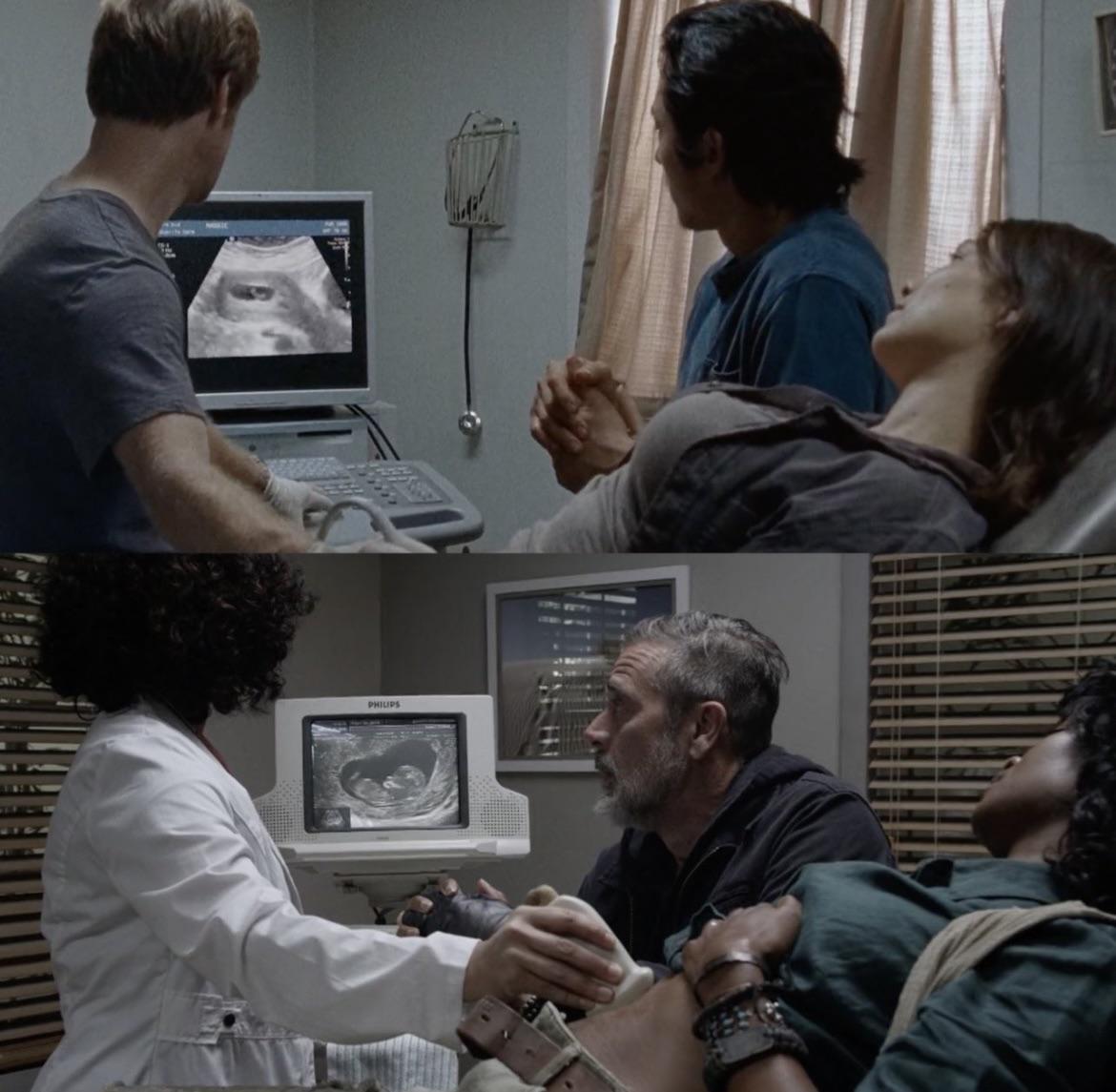 The most dramatic fan theories already suggest that Negan's new wife is going to die since she's wearing the clothes of the same color that Glenn wore in his scene a long time ago. Meanwhile, Negan and Maggie are wearing grey in their scenes — a possible indication of them "surviving, but at what cost?".
The Walking Dead: Dead City Will Completely Change the Way You Look at Negan
Even if the outcome is going to be different, fans cannot help but applaud these little parallels in the new season.
"Perfect example of how "redoing" a scene or whatever the term for that is. I'm loving the work going into this final season and I can only pray it keeps up the momentum," Reddit user Fekbiddiesgetmoney noted.
Others, however, argue that the "parallel" feels a bit stretched.
"Same equipment, poses, etc I've seen on thousands of TV shows and movies since the 70s. Classic," Redditor justmein22 said, apparently implying that similar clothes, angle and equipment do not necessarily mean that characters are going to die.
However, this is not the first time The Walking Dead fans fear for Negan's new wife's fate. Earlier, a Reddit fan theory suggested that Negan will have to struggle with desire to return to his sadistic past once more — possibly because his wife dies somehow and he will be driven by revenge. Now that there is another potential hint at that, it would seem that fan theories were quite reasonable — something that, if true, would be setting up stage for even more drama in the final season of The Walking Dead, as well as its spinoff, Dead City.
The One Death That Ruined The Walking Dead For Die-Hard Fans
Season 11 is set to go out with a bang on November 20, with episode 24 to deliver a finale that is appropriately titled Rest in Peace. However, The Walking Dead fans are already excited for the Maggie & Negan spinoff Dead City, which is scheduled to premiere at some point in 2023.