Yellowstone Who? AI Turned Harry Potter Into a Western And It Looks Perfect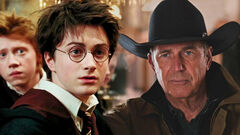 Summary:
AI has already allowed us to visualize new iterations for familiar worlds
This time, it has turned the Wizarding World of Harry Potter into a western, and it looks amazing
It's tough to be a fan of westerns these days. The biggest western show by Paramount, Yellowstone, is heading towards an abrupt end in 2024; other projects do not seem to be just as satisfying.
Naturally, we western fans have to resort to AI and its magical ability to put any kind of spin on our favorite universes. Speaking of magic, have you ever thought of combining the worlds of Harry Potter and good old westerns? Even if you didn't — you will now, and you will enjoy it.
One wand wave from The_AI_Dreams — and The Boy Who Lived discovers himself in the Wild West, facing off with the nightmarish cowboy version of Voldemort. But Harry himself also looks fine enough to yee-haw anyone out of his way!
Other characters also look surprisingly good in their cowboy attire — look at Sirius Black! The man looks like he was always meant to be a western character, but J.K. Rowling just changed her mind at the very last moment.
Hogwarts professors also look like they've spent their entire lives teaching horse-riding and not magic spells. Minerva McGonagall is definitely the most fearsome cowboy in that version of the Wild West...
The only character who could do without a western variant is Dobby, but we're already used to AI turning him into the wildest versions of himself all the time.
For those craving actual Harry Potter content, not the AI-generated one, there are two ways. Either you launch your annual Harry Potter marathon right now (the Christmas season is coming, after all), or you wait for the new HBO adaptation that is currently in development.
The release date for HBO's reboot of Harry Potter has not been set yet.